Improving food standards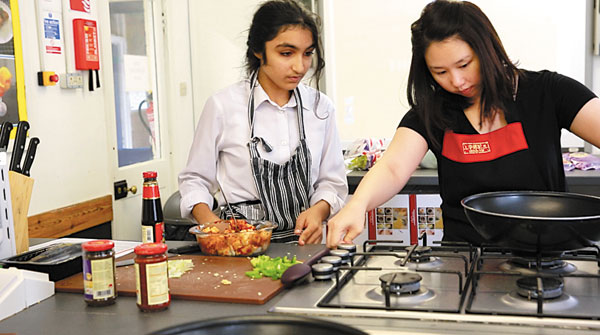 Students at Riverstone prep school take part in the Healthy Chinese Cuisine Ambassadors program. [ANGUS MCNEICE/CHINA DAILY]
The National Health and Family Planning Commission has revealed its intention to clean up and consolidate nearly 5,000 food safety standards and formulate or revise 300 national standards.
This is a timely step to regulate China's food industry, given that food safety has become a huge concern after a number of high-profile scandals and tragedies in recent years.
The existence of assorted, different and even conflicting food safety standards among different departments, regions and fields complicates the management and supervision of food production.
An official from the China National Center for Food Safety Risk Assessment once pointed out that more than 15 government departments in charge of health, industry, forestry and grains had their own standards in their areas of responsibility. This shows how necessary it is for the NHFPC to build a unified national system for food safety standards.
Especially as newly discovered chemical contaminants and pathogenic microorganisms that may pose health hazards continually present new challenges to those charged with ensuring the safety of the food we eat and require the formulation of new safety standards, along with their evaluation and supervision.
Compounding the difficulties, people's rising living standards have prompted them to pay more attention to food safety and there is growing pressure on the authorities to intensify their supervision.
The country's law on food safety adopted 28 years ago no longer meets the needs of the times after the tremendous changes that have occurred since then. The law's amendment remains a pressing task, as is revision of the country's food safety standards enforcement system. Lax and weak supervision is believed to be one of the reasons for the problems exposed in the country's food production.
However, to ensure the effective supervision and enforcement of food safety standards, the country should first have a set of unified food safety standards.