Unwise trade move by Japan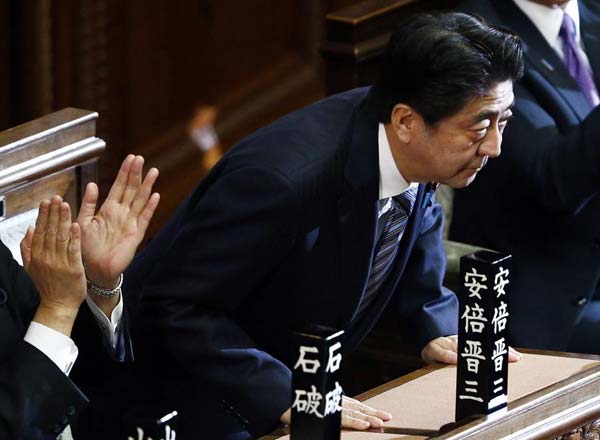 Japan's Prime Minister Shinzo Abe bows as he is re-elected as prime minister at the Lower House of Parliament in Tokyo December 24, 2014.[Agencies]
The contraction of the global market in the wake of the global financial crisis has dealt a heavy blow to Japan's economy, and the failure of "Abenomics" to achieve the expected effects has resulted in the trend of protectionism emerging in Japan.
Japan's Ministry of Finance has reportedly said that it will amend the preferential tariff system it introduced in the 1970s that imposes minimal to no duties on selected industrial products from developing economies.
The adoption of such a preferential tariff system reflected Japan's willingness to undertake its international responsibilities as a developed country.
China and Japan are neighbors with close economic and trade links, and Japan's economic assistance to China in the initial years after China's reform and opening-up played an important role in helping China extricate itself from its economic hardships.
However, under the proposed amendment, countries with a per capita national income of more than $412.5 and a more than 1 percent of world's total exports will be disqualified from receiving preferential tariffs. This would include China.
Undoubtedly, the removal of Japan's preferential tariff policy would increase the pressures on China's exports, given that Japan is the fifth largest market for Chinese exports.
By giving its trade partners' preferential tariffs, Japan is transferring some of its interests to them, but such kind of interest transfer is a mutually reciprocal move from which Japan also benefits.
China's exports have benefited from Japan's preferential tariff system, but this is by no means China's unilateral acceptance of benefits from Japan.
China is Japan's second largest export market and Japan has gained a total of 1.86 trillion yuan ($278.9 billion) of trade surplus from China over the previous decade. So, any protectionist move targeted at China will not only damage China's exports to Japan, but will also undermine Japan's interests in the Chinese market.--Beijing News