Trump offers challenges and opportunities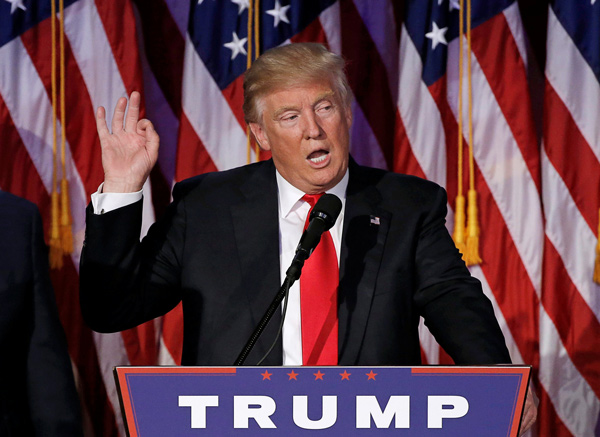 US President-elect Donald Trump speaks at election night rally in Manhattan, New York, US, November 9, 2016. [Photo/Agencies]
Donald Trump's victory over Hillary Clinton brought the curtain down on the chaotic US presidential election. Before the votes were counted, however, many American scholars, former officials and mainstream media said, and a majority of polls showed, Clinton had an edge over Trump. That's why many refer to the final result as another "Brexit".
Although the presidential election is over, its impact on the US is just beginning to unfold. As the "Trump-Sanders phenomenon" revealed, US society is seriously divided over many social issues, which could have negative social and political consequences.
Trump's victory reflects the strong political support he enjoys. And instead of signifying that the United States faces a gloomy future, it indicates American domestic politics faces a new round of adjustment and reform.
But before launching any reform at home, Trump has to deal with severe challenges both on the domestic and diplomatic fronts. One challenge is how to deal with anti-globalization sentiments among Americans, a trend evident in many other developed countries, and which resulted in Brexit in June and Trump's election as US president.
For years a majority of the people across the world, especially those in the West, supported globalization because they believed it was good for them, but the US presidential election showed many Americans now oppose it. Globalization has improved the lives of millions of people worldwide, but not all have benefited from it. It is not the panacea for all the ills plaguing humankind, as some people took it to be. The chaos in the Middle East has made people realize the limitations of globalization in resolving religious and ethnic issues, and the 2008 global financial crisis showed globalization doesn't mean stable economic growth forever either.
But Trump has to realize that de-globalization is not the answer to the problem. The wide gap between the rich and the poor in the US, if not narrowed, however, will continue to fuel public anger against globalization. The data released by the US Census Bureau in September are stark: the overall income of the richest 5 percent is 17 times the income of the lowest-income group. Making matters worse is the remarkable shrinking of the middle-class population as wealth gets rapidly accumulated in the hands of the richest group. This means the US has lost its olive-shaped social structure with a huge middle class.
People are wondering what Trump, as president, will do as the representative of de-globalization and de-traditional politics to solve America's problems.
Diplomacy is not Trump's strongest point. He doesn't have any political or diplomatic experience, and hasn't worked out a foreign policy. Therefore, he may devote his first and second years in office to resolve domestic affairs, in order to narrow the differences between Republicans and Democrats, as well as in US society as a whole.
Trump's slogan on the campaign trail, "Making America Great Again", was focused mainly on administration of domestic affairs. He did say during his campaign that NATO was "past tense" and that he wanted US allies such as Japan and the Republic of Korea to take more responsibilities and contribute more for self-defense.
No one yet knows what Trump's foreign policy and diplomatic team will look like. As to his policy toward China, Trump has said nothing except that he would take a tough stance on economic and trade matters. The US' China policy may not be Trump's top priority immediately after assuming office on Jan 20 next year, but it is a significant issue that he has to carefully consider.
The uncertainty that comes with Trump in the White House is both a challenge and opportunity for China. The challenge is that China knows little about Trump, and the opportunity is that he is known to be pragmatic and flexible.
The author is an assistant research fellow at the Institute of American Studies, China Institutes of Contemporary International Relations.