Online shopping boom vs courier services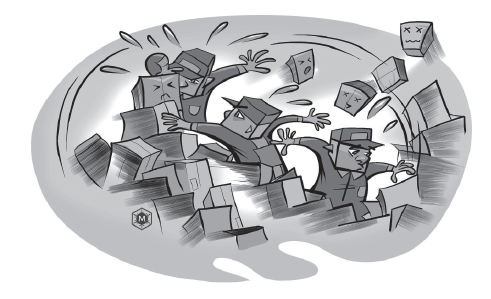 MA XUEJING/CHINA DAILY
Did you purchase goods on Singles Day, the online shopping carnival on Nov 11? If so, are you still waiting for the goods to be delivered to you?
You may never know what happens to your goods before they reach you. A China Central Television video report has revealed how they are treated at the sorting centers of express delivery companies. The packets are thrown randomly four or five meters away, used as "chairs" and kicked down from trucks to the ground despite the labels saying "fragile" clearly evident on them.
This is not the first time a media outlet has exposed the "violent sorting" methods used by workers at sorting centers. This first came to light in 2011, the year when online shopping really took off. In response, the postal authorities of several provinces, such as Jilin in Northeast China, installed cameras to supervise the process 24 hours a day. Yet not much has changed and the sorting process continues as usual, especially during online sales festivals such as Singles Day.
Many say courier companies do not follow regulations when it comes to managing their sorting staff. But while doing so, they forget the low margin of profit these companies work on. One needs to pay only 5 to 6 yuan ($0.87) to post a 1 kilogram package to a destination in a city hundreds of kilometers away via an express courier and expect it to reach within two days. In comparison, in the United States, the price of an untraceable delivery order is about $8 to $10, and you must pay all the additional charges. And the charges for weekend deliveries, SMS notices, early arrivals in the US are so high that some people jokingly say it is better and cheaper to drive and deliver the goods in person instead of sending them through couriers.
Data show that in 2014, the average price of a delivery order in China was 14.7 yuan, which increased to 27.7 yuan in 2015. And some chain stores of express companies earn less than 1 yuan as profit on each packet they deliver.
No national official data are available, but a browse through 58.com or other domestic job-seeking websites will show domestic courier companies offer a monthly salary of about 3,000 to 4,500 yuan to hire workers at sorting centers. And sorting is a highly labor-intensive and tiring job.
The lack of use of advanced technology is another major problem for domestic courier companies. While the majority of US express companies use automatic sorting machines to do the sorting, only two Chinese courier companies have reportedly installed such machines. Perhaps the low profit margin has forced them to rely on manual labor instead of investing huge amounts to purchase sophisticated sorting machines and lose their profit margin further.
Chinese courier companies still have a long way to go before achieving qualitative growth, as opposed to quantitative growth.
The author is a writer with China Daily. zhangzhouxiang@chinadaily.com.cn