Wait and see is the message on ties with Japan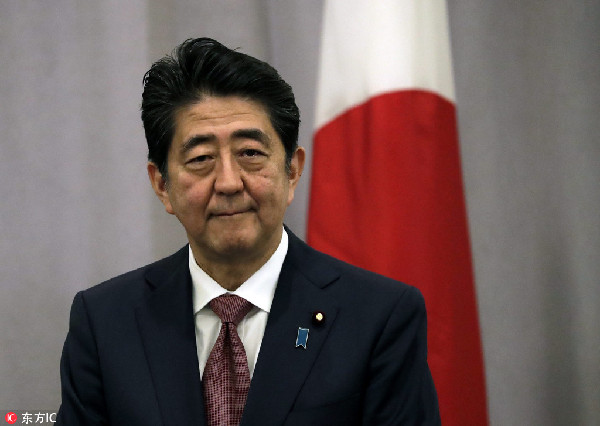 Prime Minister of Japan Shinzo Abe listens to questions from the media about his meeting with US Republican President-Elect Donald Trump at the InterContinental Barclay Hotel in New York, November 17, 2016. [Photo/IC]
Japanese Prime Minister Shinzo Abe was the first foreign leader to meet with the US president-elect, and Japan's media excitedly seized on anything that could be regarded as a positive signal from the high-profile meeting on Thursday between Abe and incoming US President Donald Trump. Their smiles, and the gifts they presented to each other, were believed to betray there was chemistry between them during their meeting in Trump's penthouse in New York.
Both men kept their lips sealed on what they talked about for 90 minutes, claiming that their talks were unofficial. But Abe, who appeared to be clear of any anxiety about the US president-in-waiting's Japan policy, called Trump "a trustworthy leader", adding he was confident he would be able to build "a relationship of trust" with Trump.
Trump's daughter Ivanka Trump and her husband Jared Kushner, as well as former director of US Defense Intelligence Agency Michael Flynn, were also at the meeting. Trump has offered Flynn the role of national security adviser in his administration.
As The Financial Times noted, "national security adviser is a powerful role given its close access to the president, but Mr. Flynn is positioned to assume even more influence than previous holders because Mr. Trump has no foreign policy experience."
Flynn, who served as an adviser to Trump during his presidential campaign, made a trip to Tokyo in early October. He visited the headquarters of Japan's ruling Liberal Democratic Party and reportedly assured the country's Chief Cabinet Secretary Yoshihide Suga that Washington would not change its diplomatic emphasis on the military alliance with Japan, even if Trump was elected president.
But the hastily arranged meeting between Abe and Trump on Thursday suggests that Flynn's words had failed to dispel Japan's concerns.
On the campaign trail, Trump repeatedly threatened to withdraw US troops from Japan if it does not pay more for hosting them.
Before the Japanese prime minister left Tokyo for New York, analysts had tried to offer him advice on how to convince Trump of Japan's importance to the United States' alliance system and the Asia-Pacific region.
In a signed op-ed headlined "What Abe should tell Trump" in Japan Times, Robert Dujarric, director of the Institute of Contemporary Asian Studies of Temple University Japan, said Abe might point out that without Japan the Chinese would already be preparing to take Hawaii.
I like to believe that these words are merely the scholar's sly humor.
Dujarric added that an isolationist America abandoning the Western Pacific might appear like a Trump-given gift to Beijing. East Asia could turn into a large Chinese satrapy, with the possibility of turmoil and fighting.
However, it was said that Abe and Trump did not discuss such heavy topics but simply used their meeting as the opportunity to get acquainted with each other personally.
In an interview with CBS, Trump's campaign manager Kellyanne Conway said "any deeper conversations about policy and the relationship between Japan and the United States will have to wait until after the inauguration".
Last week Katsuyuki Kawai, a special adviser to Abe, was in Washington, busy talking to Trump advisers. He quoted them as saying "we don't have to take each word that Mr. Trump said publicly literally".
Where the trust Abe has found in Trump came from remains unknown.
So it is not hard to understand the Yomiuri Shimbun's lingering worries about the Trump administration's policy toward Japan and the prospects of the Trans-Pacific Partnership, which Trump has vowed to pull the US out of but which Abe has made a crucial part of his economic growth package.
The author is China Daily Tokyo bureau chief.
caihong@chinadaily.com.cn