Online video dramas out to find their niche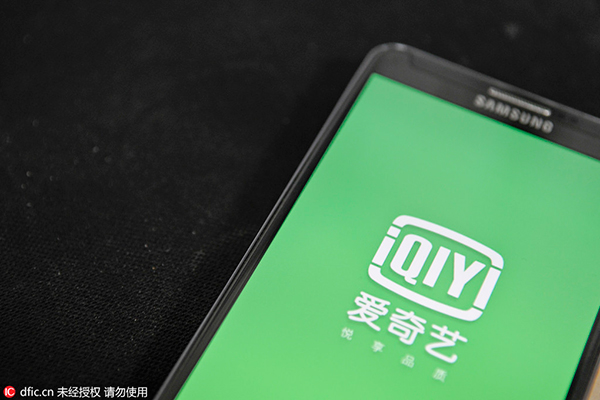 The loading homepage of iQiyi is displayed on a smartphone. [Photo/IC]
Once shot for commercial promotions and coupled with cheesy jokes, Chinese online video dramas now appear to be flourishing thanks to China's booming "Internet Plus" economy. According to a recent report on video series made by video websites such as Youku Tudou and iQiyi, an estimated 2,000 episodes will be produced by the end of this year, taking the 2016 total to more than 5,000, almost 250 times the figure in 2009.
Like other internet-based cultural products, online video dramas, despite borrowing heavily from traditional TV series-from narratives to promotional tactics-have also made notable progress in terms of innovation and creativity. In fact, many of them have managed to get rid of such dependence and can co-exist with the dramas broadcast by TV channels.
The themes of online video dramas, for one, cater to a diverse audiences, as unlike the TV audience, online video viewers-based on their age, education level and appreciation aptitude-have vastly different preferences.
Video sites have an inclination to make dramas that are either sensational-with solving of crimes involved-or about adolescent love, a favorite with many youngsters. That, to some extent, has led to vulgar, crude plagiarism, and even obscure attempts to overstep the boundaries of film and TV series management. But the poorly produced shows now face stricter scrutiny and have little chance of reaching viewers.
On platforms, once co-produced by online video companies and TV stations to supplement the latter, online video series are getting rid of their dependence on traditional media vehicles. Many of them are now exclusive to online users and available only on online streaming sites, with offline producers and broadcasters playing a limited role in the productions.
The change is in line with the rise of the internet and the growing independence of online video enterprises. The ever-changing appetite of netizens for entertainment also serves as the key gauge for online video producers.
Another noteworthy change is the way video sites make money. Traditionally, advertising revenue made up most of their earnings. But now they are asking viewers to pay membership fees to enjoy the luxury of watching certain online video dramas, and an increasing number of viewers are willing to do so. That would effectively incentivize video sites to provide better, more tailored products to their paid users.
So now, competition among online video producers is no longer about copyrights of traditional TV series, but about the content and quality of their own products. Moreover, compared with their traditional TV dramas, whose total number reached 16,540 episodes last year, the independently made online video dramas have great potential and market value that remain untapped.
Given the required policy support, management and television talents, the industry is expected to prosper even without replicating the success of traditional TV series or pursuing sensationalism.
The author is a lecturer at the Communication University of China.