Stronger policies needed to fight air pollution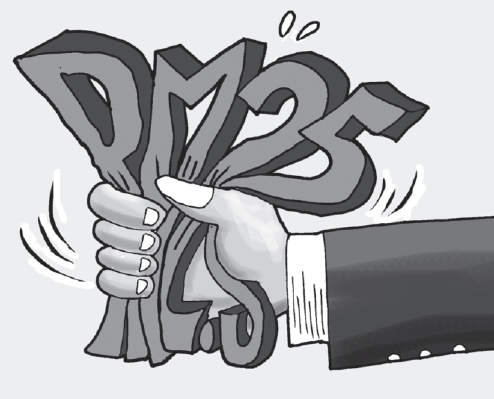 YIN ZHENGYI/CHINA DAILY
While global leaders incessantly pontificate about emission-reduction targets, pollution-related respiratory complications continue to kill millions of people, many economically vulnerable and politically underrepresented. The data are clear about the urgency for intervention, and the content of good policy is no mystery. The greatest hurdle is the political indifference implicated in repeated policy failures.
While terrorism, political violence and pandemics are formidable threats to people's livelihoods, air pollution continues to have an unparalleled impact on human survival. An estimated 6.5 million deaths worldwide are attributable to air pollution each year, according to the International Energy Agency.
The World Health Organization has issued guidelines for air quality based on the concentration and size of particulate matter; the smaller the particulates, the deeper and more harmful their penetration into human lungs can be. For particulates with a diameter of 10 microns or less (PM10), the critical threshold is 20 micrograms per cubic meter as an annual mean, and 50 micrograms as a daily mean. WHO says a reduction in PM10 from 70 micrograms per cubic meter (a common level in developing cities) to 20 micrograms could reduce pollution-related deaths by 15 percent.
The sources of household air pollution, which accounts for a majority of pollution-related deaths in India, are burning of coal, wood, dung and crop residue; these are vital sources of power and heating in poor and developing regions. Sources of ambient air pollution, which accounts for a small majority of air pollution-related deaths in China, are, among others, power plants and automobiles.
In findings presented at the 2016 annual meeting of the American Association for the Advancement of Science, 55 percent of the 5.5 million air pollution-related deaths in 2013 occurred in China (1.6 million) and India (1.4 million).
Recent WHO statistics show the pollution-level gap between developed and developing countries is growing. In the 22 largest cities of developed East Asia (including Japan and the Republic of Korea), the annual mean for PM10, an average of 37 micrograms, exceeds WHO standards by only a modest margin. In contrast, the average for China's 23 largest cities (113) and 122 Indian cities (107) far exceeds WHO standards.
Globally, more than 80 percent of the cities where air pollution is monitored fail to meet WHO standards.