China-Latin America ties aimed at mutual benefit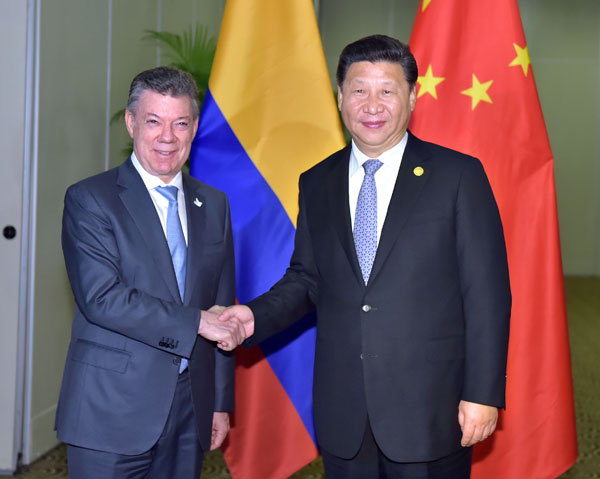 Chinese PresidentXi Jinping (R) meets with his Colombian counterpart Juan Manuel Santos in Lima, Peru, Nov. 19, 2016.[Photo/Xinhua]
At the meeting with his Ecuadorian counterpart Rafael Correa in Quito on Thursday, President Xi Jinping reaffirmed that China's aid to the country has no strings attached. Xi's remark during his visit to Ecuador is well in line with the spirit of his third visit to Latin America since 2013.
Xi's Latin America itinerary also includes visits to Peru, where he attended the APEC Economic Leaders' Meeting during the weekend, and Chile.
His visit is expected to add more weight to China's promise to deepen relations with the three countries, as multiple agreements-from trade and investment to finance and nuclear power-have already been signed or will be signed during the rest of his three-nation tour. That China and Latin American countries have enjoyed high-level political, economic and cultural exchanges over the past decade or so speaks volumes of Beijing's commitment.
The two sides have also reached a number of strategic consensuses and have taken similar or the same stances on major international issues.
China's direct investment in Latin America reached $126.3 billion by last year. Its considerable demand for natural resources has helped the Latin American countries not only raise capital but also enhance their investment capabilities.
That, of course, is just one side of the story. On the one hand, Latin America, home to abundant natural resources, is willing to deepen its trade integration with China. On the other hand, there have been concerns about Beijing's "obsession" with Latin American resources, which some say will prolong the exporting countries' reliance on the primary sector and thus delay their industrial transformation.