Reduced US presence acceptable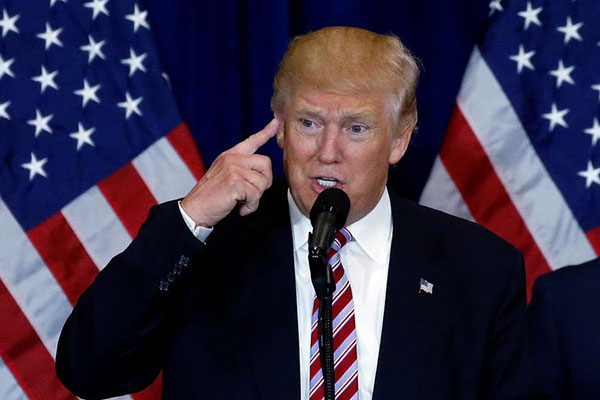 Republican presidential candidate Donald Trump speaks at a post Republican Convention campaign event in Cleveland, Ohio, July 22, 2016. [Photo/Agencies]
Concerns that the world will face growing risks when Donald Trump enters the White House because the United States will stop being the world's policeman are unfounded.
The world order has never been a changeless system. Besides, the collapse of the old order and the establishment of a new one would not necessarily bring the world more risks than opportunities.
In fact, no signs have emerged that Trump will abandon the US' hegemony or has any inclination to reduce the US' international obligations. Trump will know no less than others that the US' unchallenged hegemonic status in the world allows it to pursue its interests no matter the cost to others.
As a realist, what Trump pursues may be to enjoy more dividends from such a status while trying to undertake as few obligations as possible, as reflected by his comment on the campaign trail that Japan and the Republic of Korea ought to pay more for the US troops stationed on the two allies' soil, and his suggestion that the European Union is taking a free ride on the US for its security.
Even if Trump does want to reduce the US' presence in the world, no bad things would happen. Today's world is much different from what it was after the end of the Cold War.
The rise of emerging economies such as China, Russia and India and regional players such as Iran, South Africa and Brazil mean that there are no power vacuums in the world that can only be filled by the US.
As a matter of fact, the current chaos in the international order is largely a result of the US' all-out efforts to maintain its sole superpower status and suppress the rise of other powers.
--IFENG.COM