Shutterbugs in the spotlight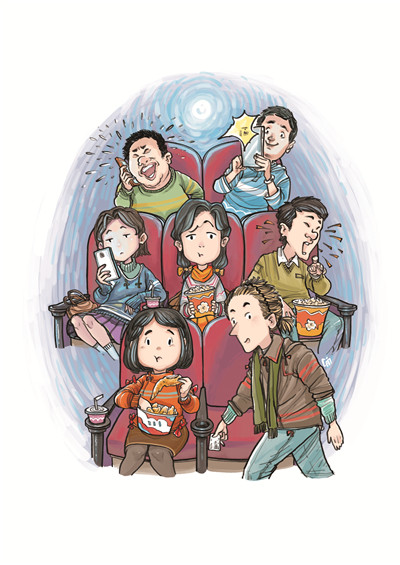 [Photo by Cai Meng/China Daily]
Snapping photos of the screen or stage is a public nuisance. But if well managed, it can be good for both the movie and the audience-as well as being a good lesson in etiquette.
The just-finished seven-day holiday has been a boon for China's film industry. Out of the record 3.38 billion yuan ($491 million) in ticket sales, at least three tickets had a back story more dramatic than what was shown on the big screen.
Or, shall I say, a cautionary tale.
A 39-year-old woman in the Guangxi Zhuang autonomous region's Guilin went to watch Duckweed, with her mother and her 9-year-old daughter in tow. During the screening, she whipped out her cellphone and incessantly snapped photos of the screen-complete with flash.
"I was so excited when I saw Eddie Peng on the screen," the woman, surnamed Qin, later explained, referring to one of the stars in the film.
Two women, roughly of Qin's age, were sitting right in front of her. They were not amused and turned around to stop her. She might have turned a deaf ear to them. Anyway, by the time the movie ended, the duo were still holding a grudge. They confronted Qin again and beat her up.
There is no doubt that the women should have refrained from inflicting physical violence upon her. They should face a penalty for their conduct.
While it is up to law enforcement to deal with the duo, it is for society at large to reckon with Qin.
Ideally, the women should have notified the cinema's management, who in turn should have stopped her and, having failed, should have expelled her from the premises. Or, the women should have confronted her afterwards and told her sternly, but not with verbal abuse, that it was wrong of her to disturb other audience members in that manner.
Etiquette is a scarce commodity when a society is undergoing upward mobility.