Palace Museum owns over 1.8m pieces of treasures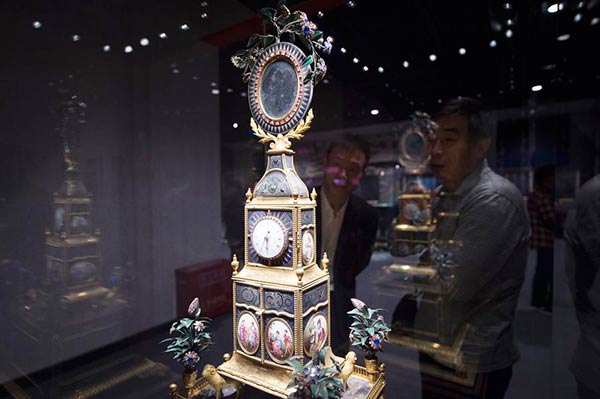 A piece of treasure from the Yangxin Dian is on display at the Capital Museum in Beijing, Sept 27, 2016. [Photo/Xinhua]
3. Does the Palace Museum have 9,999.5 rooms?
It is said that the Palace Museum has 9,999.5 rooms, but Shan said that the number of rooms in the ancient architecture in the museum totals 9,371.
Shan said that "Sometimes I can't stand watching costume dramas. For example, Ming Dynasty emperors held early meetings at the platform in front of the Hall of Supreme Harmony (Taihedian), instead of inside the palace like the drama always shows."
Shan said now the overall restoration of the museum's ancient architecture has entered its core areas, like the Hall of Mental Cultivation (Yangxin Dian), Qianlong Garden, and the city wall.
4. What other mysterious palaces will open?
The opening of the Shoukang Palace last year, the residence of Empress Dowager Chongqing, the mother of Emperor Qianlong, has attracted many visitors.
In the next four years, Yangxin Dian (The Hall of Mental Cultivation) where emperors lived, Yuqing Gong, where crown price studied, and Ningshou Gong (Palace of Tranquil Longevity), which Emperor Qianlong built for himself to live after retirement, and Fengxian Dian (The Hall for Ancestral Worship), will open one by one.
"We plan that 80 percent of the total area will open in 2020, and 85 percent in 2025, and now it is 76 percent," Shan said. "People can choose different routes from the west part and east part, instead of just touring the Forbidden City along with the axle wire in the future."
Related:
Palace Museum to open 'hospital' to the public next month
Palace Museum to build new offshoot to display more exhibits