Museum struggles for more space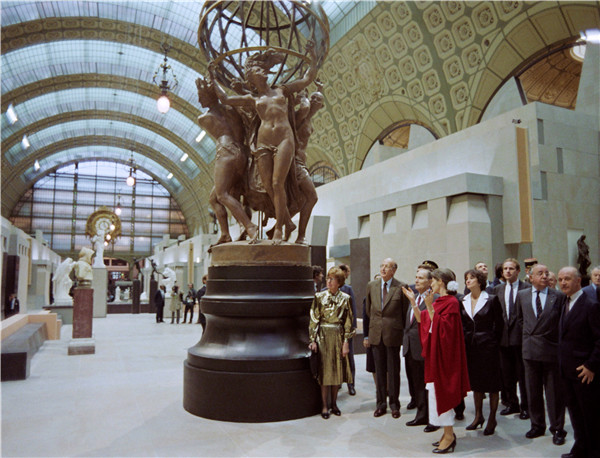 The inauguration of Musee d'Orsay in Paris in 1986, featuring French President Francois Mitterrand. The museum celebrated its 30th anniversary over the weekend. [Photo/Agencies]
It is one of the greatest and most visited art museums in the world, and the only one in an old railway station.
Thirty years after the Musee d'Orsay opened its doors for the first time, it has become as much a Paris landmark as its big sister the Louvre just across the River Seine.
But the very success of the museum best known for its unrivalled collection of impressionist paintings is now causing it problems.
An average of 3.5 million visitors a year pour through its spectacular vaulted nave, making it the "densest museum in the world", according to its director of collections, Xavier Rey.
There is simply not enough space, he says. Although the Musee d'Orsay is one of the top 10 most visited galleries in the world, it is several times smaller than its rivals.
"It will probably be difficult to welcome any more visitors," says Guy Cogeval, who heads the museum and its smaller offshoot the Orangerie, which houses Claude Monet's Water Lilies murals.
Cogeval, who is stepping down in March, says the "one of the greatest challenges my successor faces is how to deal with this".
That lack of space was severely tested on the weekend when it opened its doors for free to celebrate its 30th birthday.
But the real problem isn't so much the public as finding a place to show its staggering collection of late 19th-century and early-20th century masterpieces which runs from Courbet's notorious The Origin of the World to Manet's reclining nude Olympia and Van Gogh's searing self-portraits.