Genghis Khan goes global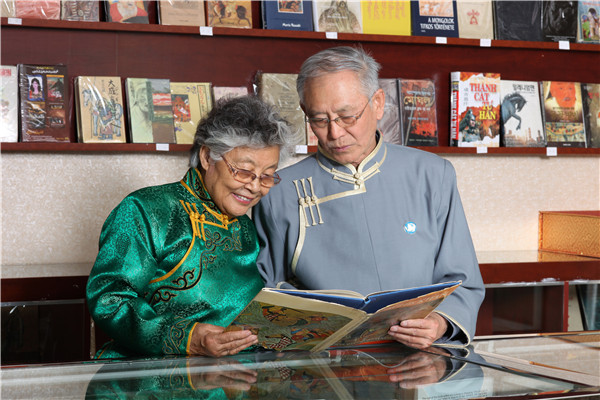 Baljinnyam and his wife, Zhang Jixia, read one of the books about Genghis Khan they've collected during their travels around the world over the past few decades. [Photo provided to China Daily]
For Baljinnyam, a man from the Mongolian ethnic group, rummaging through the world's bookshelves for the legends of his "emperor lord" is a pilgrimage.
The 78-year-old, who lives in the Inner Mongolia autonomous region's capital, Hohhot, has collected about 12,000 copies of books in 58 languages, from home and abroad, related to Genghis Khan (1162-1227), the Mongol ruler who established a mighty Eurasian empire.
"Everyone in the Mongolian ethnic group admires Genghis Khan and treats him like a god," Baljinnyam says.
"But many of us don't know much about him as an individual. My impression of him was limited until I began to collect the written material."
In 1998, Baljinnyam retired from his job at a local newspaper. After that when he went to visit his younger daughter in Shanghai, he read a Washington Post story that quoted a public poll as saying Genghis Khan was "the most important man of the last millennium".
Many people in the West call the Mongol emperor a conqueror and an invader, so Baljinnyam says he was surprised to read such a "positive comment" in the Post.
"That inspired me to have a complete view of Genghis Khan."