How long is China's Great Wall? 21,196 km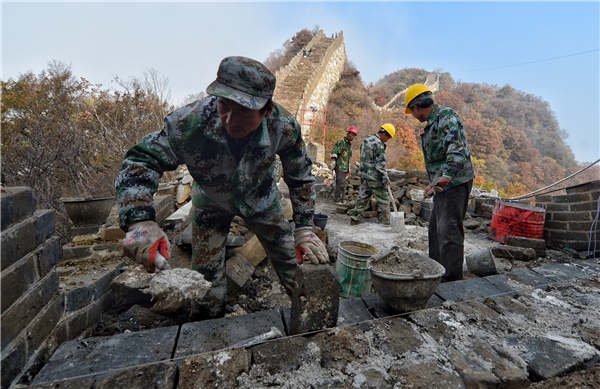 Workers repair a section of Jiankou Great Wall in Huairou district of Beijing, Oct 19, 2016. [Photo by Guo Qian/Asianewsphoto]
Over 40km out of 573 km in Beijing has been repaired
According to statistics, Beijing has 573 km of the Great Wall, distributed to six districts around the capital.
According to staff from Beijing's cultural relic department, Beijing staged regulations on Great Wall protection quite early on and the city has provided financial support to protect it. Besides, a volunteer team has been set up this year to regularly patrol the Great Wall, to dissuade and report uncivilized behavior.
The wild side of the Great Wall will gradually be repaired in the next five years. "The sections which travelers frequently go and need urgent protection will be restored in advance", the staff said. Now the Jiankou section of the Great Wall is under restoration, which is also the most precipitous part of the world wonder in Beijing.
The staff revealed that over 40 km of the Great Wall has been renovated in Beijing and the process is quite difficult due to geography conditions. "Some building materials have to be carried by mule or donkey."
The Great Wall, one of the eight world wonders, was first built during the Spring and Autumn Period (770-476 BC) and the Warring States Period (475-221 BC). It is one of the most magnificent ancient military defenses, built originally to protect the northern borders of the Chinese Empire against intrusions by various nomadic groups such as the Hun from the north.