Promotion of Shaanxi's traditional arts and crafts gets new thrust
Since the central government announced the Belt and Road Initiative in 2013, Liu Kuanren, head of the cultural department in Shaanxi's local government, has been thinking up ways to internationally promote the heritage of his province that is located in Northwest China. This is the home of the famous Terracotta Warriors.
Liu, who plays the xun, an egg-shaped traditional Chinese wind instrument made of clay, says culture and the arts have a big role in bringing people from different countries together.
Shaanxi is where the Qin Dynasty (221-206 BC) took root and united China. Xi'an, the province's present-day capital, used to be called Chang'an earlier, when it was the country's capital for 13 dynasties. The museum of the Terracotta Warriors is also situated here, making Xi'an an important place in China's political and cultural history.
The city was the starting point of the ancient Silk Road, the network of overland and sea routes that connected China with the world for centuries, and enabled trade and cultural exchanges.
Xi'an was a metropolis from the Han (206 BC-220) to the Tang (618-907) dynasties. The fast development of China's coastal regions since the Song Dynasty (960-1279) led to its decline.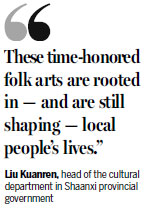 Liu thinks reviving Shaanxi's culture and the folk arts is significant to the Belt and Road Initiative, with a focus on drawing more foreign tourists to the province.
"Many foreigners look for novelty in Shaanxi's culture, and there is also a tendency among Chinese to describe traditional culture as 'backward'," Liu tells China Daily.
He uses the xun as an example. The 3,000-year-old instrument has a profound anthropological and cultural background and a special tone, but "most people watch our performance only out of curiosity", Liu says.
Foreigners have yet to fully see Shaanxi's Qinqiang Opera, shadow-puppet shows, Yangge dance, the waist drum dance, the traditions of paper-cutting and farmers' drawings, he says.
"These time-honored folk arts are rooted in - and are still shaping - local people's lives, and they should not be deemed outdated," he says.
He thinks Japan, South Korea and Germany set good examples for China in finding ways to blend ancient culture and arts with modern ones.
"They haven't lost their old culture and arts, while developing newer ones."
Shaanxi should not lose its traditional and local characteristics, and choose an effective way to promote its culture abroad.
Liu believes confidence in one's own culture is the key to finding its universal value.
One way to deepen Western understanding of Shaanxi' Qinqiang Opera is to perhaps compare it with the singing style of the late Luciano Pavarotti, a world-famous Italian singer, says Liu.
In Shaanxi, some choreographers are working on making Terracotta Warriors the theme of Western ballets. Liu believes that if the experiment succeeds, the ballet will make it easier for foreigners to understand the origin of Shaanxi culture.
He says more effort should be made to publicize local culture. "Some activity organizers focus on scale and the number of participants rather than the effects of cultural publicity."
Shaanxi has been hosting the Silk Road International Arts Festival, an annual event since last year. More than 62 countries participated in its second edition in September.
Liu says the province will make good use of the platform to promote Shaanxi's heritage.
Contact the writers through huoyan@chinadaily.com.cn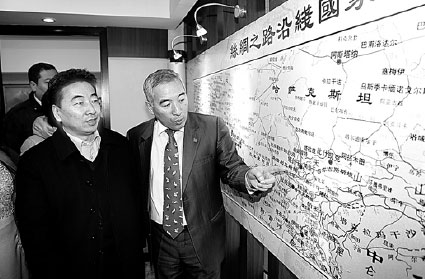 Liu Kuanren (left) visits a cultural center in Xi'an. Provided To China Dail
(China Daily 12/01/2016 page20)