Views And Hues
Award-winning graphic designer Liu Yang tours China with her pocket series on connections, Mei Jia reports.
In her book Man meets Woman, Liu Yang reveals her understanding of gender perspectives: A couple sits silently on a bus. While the woman is wondering why her boyfriend is so quiet - could he be mad at her or does he have plans to dump her - running through her mind, the man is simply feeling sorry that his favorite sports team lost a match the previous night.
The book is part of a pocket-size series by the Chinese-German graphic designer, who has won the Red Dot Design Award six times since 2002.
The international award is given by the Design Zentrum Nordrhein Westfalen in Essen, Germany.
"Sometimes, you need to think from the other side to communicate better," Liu told her audience in Beijing during a book tour earlier this month.
The tour also took her to Chongqing, Shanghai and Hong Kong.

The series includes two other books - East meets West and Today meets Yesterday, with the former published in 2007.
The books combine pictographs and short captions, and have been published in different languages in many countries.
Liu is in a special position (in the world art scene) since her art is minimalistic and exudes simplicity, Florian Kobler, managing editor of Taschen, Cologne-headquartered publisher of the series, earlier told China Daily.
The apparent simplicity of her pictographs that display her deep and wide thought process drew Taschen to her work in the first place, Kobler says.
"She tries to open our eyes to developments that affect us every day, but that we are often unaware of."
Liu was born in Beijing in 1976 and grew up in old-style courtyard houses of the city.
During an interview with the paper at her Berlin studio in October, Liu appeared elegantly dressed and said that she played a lot of tricks in her school days.
But her talent was evident even back then. Once at an outdoor sketching class, when others drew springtime flowers, she felt the view was more complex.
"I squinted. I saw blurry green and a spot of red, so I painted that and my teacher liked it," she said.
At the age of 13, Liu moved to Germany with her parents. Around then, her passion to become a designer was also ignited, partly influenced by her fashion-designer mother.
"I felt I could gain nothing from middle schools so I decided to apply to universities," she said, adding that she moved out of her parents' home to live independently at the age of 15.
She sustained herself by painting portraits and working at a carwash while preparing for college by spending long hours in libraries and at museums.
Liu was enrolled at 17 by Berlin University of the Arts. By the third year there, she already had found her first regular client for design.
After graduation, she traveled to London and New York before opening her Berlin studio in 2004.
It was sometime in 2003 when she was in New York doing corporate designs that she began to work on a "visual diary".
"At the time, I had lived exactly 13 years in China and 13 in Germany," she said.
She started to record her reflections on what she perceived to be some of the differences between the East and the West.
Examples are: Some people in the West get suntanned while in the East, some people carry umbrellas when they go out in the sun; and Western gatherings tend to be smaller in size than Eastern ones.
Finally, when she published East meets West, the first book of the series, in 2007, it became a huge hit online and offline. And according to CNN, it has been used for cross-cultural training programs in companies.
Anna Corpron of the design company Sub-Studio, who has worked with Liu in New York, has called Liu's work "bold and iconographic".
Liu, whose style of designing is inspired by ancient Chinese aesthetics, said: "The soft and flexible water-like Chinese worldview will indicate ways to settle problems of globalization."
Liu has been a professor of communication design at BTK University of Arts and Design in Berlin since 2010.
She also does poster designs and is involved in exhibition designs for museums, and in book designs.
She has designed the cover for a book by German visual artist Gerhard Richter.
Her design for From Oracle Bones to E-Publications: Three Millennia of Publishing in China, which was published by China's Foreign Language Press, was listed among the country's best-designed books.
Liu, who has no plans to expand her business yet, said she occasionally goes away on long holidays.
"I need to stop to ponder what I really want, and I need friends and time - to do nothing but just sit and chat," she said.
Contact the writer at meijia@chinadaily.com.cn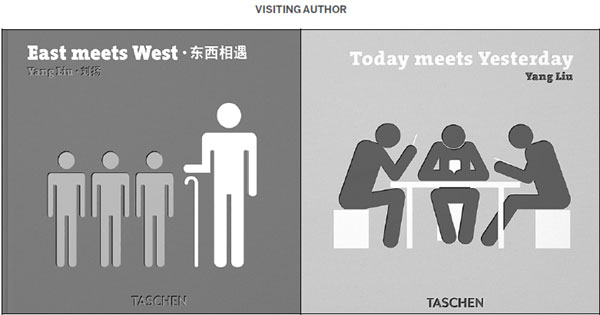 Two of Liu's books from her pocket-size series published by Taschen.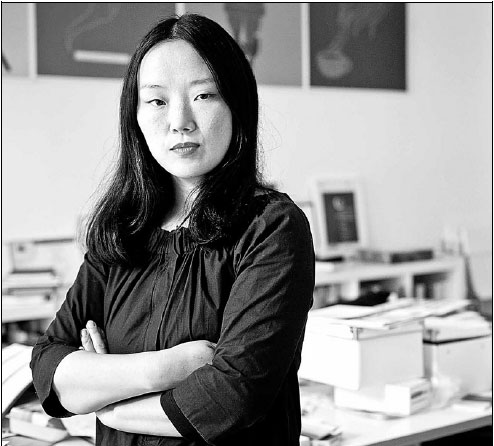 Berlin-based graphic designer Liu Yang is known for her minimalistic style.Photos Provided By Taschen To China Daily
(China Daily 11/30/2016 page20)