British author shares his view on what China will be like in 2030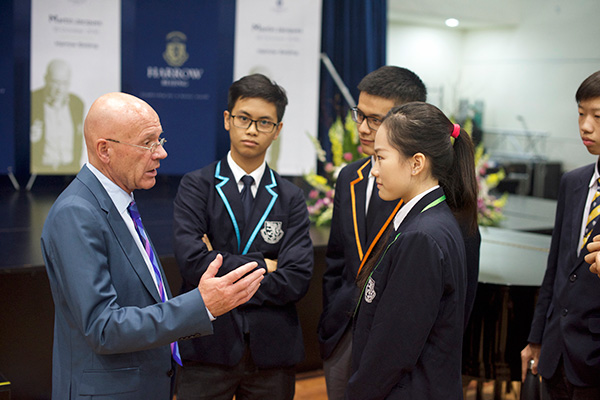 Martin Jacques(left), author of the book When China rules the world, discusses with students at Harrow International School in Beijing. [Photo provided to China Daily]
What will China be like in 2030? Martin Jacques, a renowned British scholar of China studies, shared his views on various aspects with students in Beijing last month.
"By then China will be twice of the size of the US economy," said Jacques during his talk "China in 2030" at Harrow International School in Beijing.
Jacques believes that with the growing economic influence, China will be shaping a global governance with more voices from developing countries in the near future.
"The Belt and Road Initiative is a classic example. Every country in that region is developing country," said Jacques.
"Another aspects to this the idea of inclusivity … If you look at Asia Infrastructure Investment Bank, China wants the US to join — there is no prohibitions."
Being a longtime optimist about China, Jacques wrote When China Rules the World, which has been sold more than 350,000 copies and translated into 15 languages since it was first published in 2009.
The Chinese translation of the second edition of the book was published in March.
Asked about the recent slow down of China's economic growth, Jacques said that he had predicted the decline of the fast growth rate, because of its bad effects on environment and economic bubbles.
Jacques' analysis for the difficulty lying ahead for China is whether the country could make the internal economic transition smoothly.
In the end of the talk, Jacques encouraged the students to think about their role in 2030, as he believes that with bigger share of the world economy, the young people with knowledge of China will have more opportunities in global leadership.
"Some of these kids are going to be very important in the world, not only in China," said Jacques.
Related:
China publishes ancient medical books lost in overseas