Scattering books on subway goes viral in big cities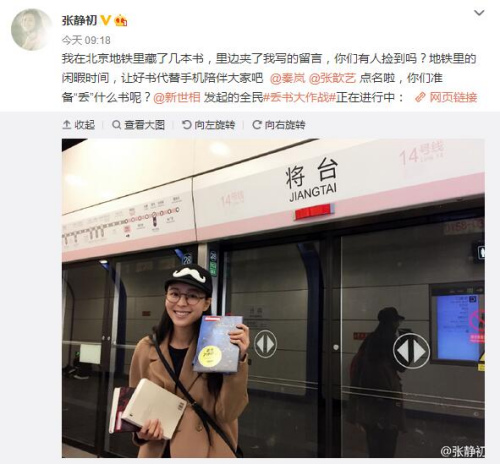 Actress Zhang Jingchu shares her photo of scattering books in a subway station in Beijing. [Photo/Weibo.com]
Reading paper books is not convenient on crowded subways
Besides the suspicion of it being just a marketing ploy, the project is difficult to carry out in China as the subways in big cities are very crowded at peak time and there is no environment for reading at all. So some people doubt the project's outcome.
"First I thought the book was used to occupy the seat, and then I noticed that it was put there for reading", a woman who picked up one of the scattered books at Dongzhimen subway station in Beijing said. "I didn't feel like wanting to read the book, as it was too crowded in the subway and not convenient for reading a paper book."
Zhu Wei, an expert from China University of Political Science and Law, said, "The project's original intention is good while it ignores the traffic situation in big cities like Beijing."
Xinshixiang said that considering traffic conditions, the Scattering Book project was done at a non-peak time to minimize the event's disturbance on public transportation.
In addition, some people don't want to read the scattered books, as they think the books are dirty and have no idea who had touched them.
Where the books have gone?
Some people claim they want to look for books to read on the subway after learning about the project, but they are nowhere to be found.
Then where are the books? Staff from Beijing subway replied that some books may have been taken away by passengers for further reading.
"When we were observing in the morning in the subway stations when the project just began, there were many people reading the scattered books and we took photos," one staffer said.
According to the photos shared by netizens online, some of the scattered books were ignored by passengers or cleared away by cleaners. "Will someone just throw the book in the dustbin after finishing reading?" "Waste collectors may flood into the subways," netizens jokingly said.