Chinese production set to create history on Broadway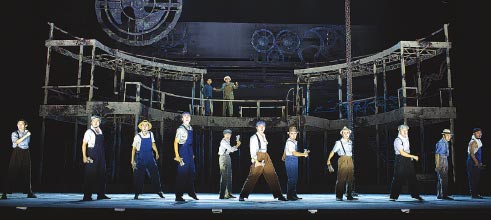 Shimmer will become the first Chinese musical to have an open-ended run on Broadway. [Photo provided to China Daily]
Shanghai Hengyuanxiang (HYX) Drama Development Company and Nederlander Worldwide Entertainment signed a deal on Nov 6 that would see Shimmer become the first Chinese musical to have an openended run on Broadway.
Shimmer, which tells a story about Jews who fled to Shanghai to escape Nazi persecution during World War II, premiered at the Shanghai Culture Square in 2015. Five days later, the musical was chosen as the opening show for the 17th China Shanghai International Arts Festival. In December last year, it was presented at the Edison Ballroom in New York's Times Square.
Directed by Xu Jun, Shimmer is a bilingual musical and performed in both English and Mandarin.
"This is a milestone for Shimmer in its goal to further spread its influence to the world," said Chen Zhongwei, president of Shanghai HYX Drama.
"In the next two years, our team will polish the story and the performance to Broadway standards, providing the audience with the highest level of musical art."
The musical's open-ended run in 2019 will also coincide with the 40th anniversary of the establishment of diplomatic relations between China and the US.
"Through this drama, the audience can feel the charm of Chinese culture," said Sean Stein, consul general of the Consulate General of the United States in Shanghai. "With this play being shown on Broadway in the future, the ties between the Chinese people and Americans will be firmly strengthened."
The success of Shimmer would no doubt be seen as a beacon of hope for China's fledgling musical industry which is only a few years old.
"The Chinese musical production scene is still very young, and we are facing a shortage of production talents, from stage designers to music directors, and especially producers," said Yu Caijia, the creator of the Chinese edition of the Broadway show Fame.
Employees of production companies in Shanghai that China Daily approached pointed out that the only way forward is to strive for improvement by creating more Chinese musicals.
However, there has been a handful of success stories. The Chinese editions of Broadway musicals Cats and Mamma Mia, both of which had hundreds of shows across Chi-na, are among the few that were box office hits.
Yu noted that the majority of those who watch Western musicals in China are limited to a small group comprising those with university education, overseas working experience, white collar and even gold collar workers.
"You can't blame them for preferring to watch a show that is in its original language, especially when the difference in ticket prices between a Chinese production and a foreign show is quite small," said Yu.
"There are only a handful of people who understand foreign languages, and you have to find a way to motivate the masses and get them into the theater."
In order to engage the wider public and stir more interest in local productions, many companies in China have set their sights on college students. Yu said that she chose to create a Chinese version of Fame because she wanted to connect with younger audiences.
"Fame is a story about young talents pursuing their dreams and this would surely resonate with the young Chinese audiences of today," she said.