Chinese singer releases an album reflecting on the past decade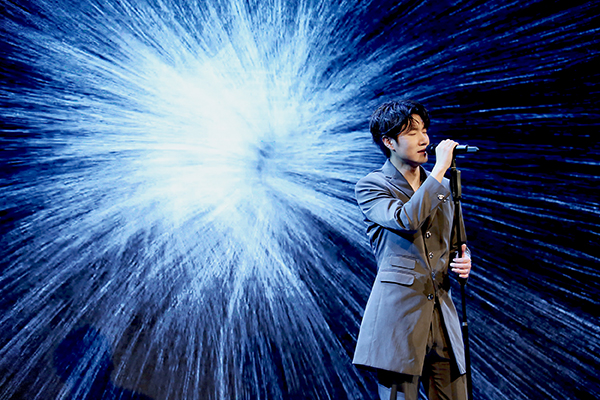 Wang Xi is touring the country with the release of his debut album.[Photo provided to China Daily]
Wang Xi gave himself the English name Elvis to pay homage to his music idol, Elvis Presley.
It was in 2007, and Wang was 22. He had then graduated from Liaoning Art Vocational College with a major in pop vocals.
"I want to become a great singer like Elvis Presley," says Wang, who was born in Yingkou, a small coastal city in the northeastern province of Liaoning.
However, success did not come easily to Wang.
In 2007, he participated in the popular reality TV show, Super Boy, but failed to win the singing competition. That year, he also decided to pursue his dream in Beijing.
He won a number of competitions, including the 15th CCTV National Young Singers Competition in 2013, but still couldn't achieve the kind of stardom some of his peers had, including pop singers Zhang Jie and Chen Chusheng.
Last February, Wang finally got his big break after participating in the fourth season of the popular variety show, I Am a Singer, produced by Hunan Satellite TV Station.
On the show, his rendition of songs including the 1940s Spanish ballad, Kiss Me A Lot, late Hong Kong pop star Anita Mui's hit, Intimate Lover, and the 1945 French song, Autumn Leaves, impressed the audience.
After preparing for about two years, the singer released his debut album, Sailing Into The Past. He gave a show at Blue Note Beijing recently.
He is touring the country in December.
"I was anxious about my future, wondering when I would be able to release my album and if I could make it as a singer. But now, it feels like my dreams are coming true," says Wang.
The album's eight songs vary in style and include bossa nova, pop jazz and romantic ballads. Their content is based on Wang's memories and reflections.
"I initiated the theme about memory because I am a very nostalgic person. For example, I like keeping my old things, because they are full of memories. I have been wearing this necklace for more than 10 years. It is a gift from my college classmate," the 32-year-old singer says, showing a silver-turquoise ornament.