Shunji Iwai's film based on real-life incidents
Japanese filmmaker Shunji Iwai still clearly remembers an afternoon when he was in second grade.
He was walking with a group of classmates when he suddenly heard a boy loudly say the name of the girl he had a crush on. It created chaos. Then, one by one, the boys revealed their secret crushes.
Iwai was in Beijing recently to promote the Japanese animated film Fireworks, Should We See It from the Side or the Bottom? He says that the "crush" story was one of the inspirations for the movie.
The 90-minute film, co-directed by Akiyuki Shinbo and Nobuyuki Takeuchi, is based on the namesake 45-minute, live-action TV drama Iwai wrote and directed in 1993.
He won the New Directors Award from the Directors Guild of Japan for it that year.
The animated feature will be released on the Chinese mainland on Friday.

As for the title, that's another story altogether.
In the movie, a group of children plan to watch a fireworks display. They are curious about how they will look if they gaze at them from different directions. This is the basis for the film's name.
Iwai, who's known for a series of youth hits, says most of his film plots are rooted in real-life stories.
Fireworks, originally used to ward off evil things, have a long history in Japan and become an integral part of summers in the country.
So, it is not a surprise to see the shapes that fireworks form repeatedly discussed in the movie.
Iwai says that the question about the shape of fireworks in the sky once haunted him, leading him to produce a story to figure out the answer.
Iwai once dreamed of becoming an animator. But most of his acclaimed titles are live-action dramas, and he has only directed one animated movie, The Case of Hana & Alice (2015).
Iwai says, "Compared with live-action dramas, animation work is much more time-consuming since animators paint the characters and scenes piece by piece."
Animators who worked on Fireworks, Should We See It from the Side or the Bottom? spent five years on the film.
Iwai's work will remind Chinese fans of the 1995 romantic film, Love Letter, and the 2001 movie, All About Lily Chouchou.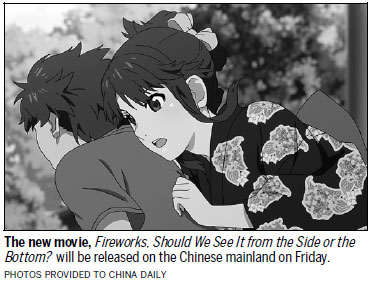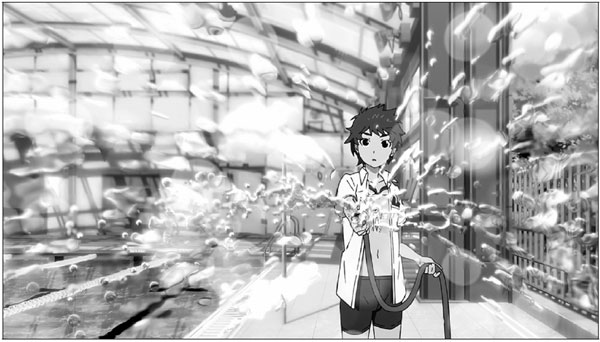 (China Daily 11/30/2017 page20)