Huayi Brothers' big plans for small screen
Huayi Brothers Media Corp, a major factor in the rise of some of China's most popular film celebrities like director Feng Xiaogang and actress Li Bingbing, recently announced plans to expand its influence among television viewers.
As part of the plans, the Beijing-based company released a lineup, collectively titled I Project, to produce 19 series, nine online movies and three variety shows.
Wang Zhonglei, CEO of Huayi Brothers, says that though movies are the company's core and most mature business, they will adapt some of its most successful movies, such as Assembly (2007), Personal Tailor (2013) and Mr Six (2015), to the series format - to be aired online or via TV channels.
Also, besides adapting the Huayi productions for the small screen, the company is seeking inspiration from the rest of the world for its TV plans.
The Drops of God, a popular Japanese manga series, is one such example.
The story is about a famous wine critic's son and his adopted brother.
Co-created by the sister-brother duo, Yuko and Shin Kibayashi, the series is like an encyclopaedia on red wine.
Wang, who says wine tasting is his hobby, purchased the animated work's copyright from the Japanese, and invited Taiwan director Doze Niu to adapt it into a Chinese live-action series.
Niu, best known for the 2009 youth action movie Monga, says he is thrilled.
Niu, also a lover of red wine, toured wine production areas in Europe to interview winemakers. He says the research has broadened his knowledge about wine.
"Some (stories) are more than merely about making or tasting wines. They are about life and how to become a better person," says Niu.
While Japanese anime is alluring for its content, American series are also tempting Huayi.
Wang says the company will learn from its Hollywood counterparts on how to produce high-quality series in a weekly format.
Such series as Game of Thrones usually release a new episode each week.
As such dramas make audiences wait longer than those updated daily and usually have bigger budgets.
Wang says the company plans to spend at least 20 million yuan ($3 million) on one episode to produce such a series, with each production lasting eight to 10 episodes, much shorter than traditional Chinese TV series.
The forthcoming online series Ultimate Child - directed by Taiwan filmmaker Leste Chen, known for the 2014 thriller The Great Hypnotist - is one such production by Huayi Brothers.
The sci-fi story is about a group of children born with the memories of a whole life.
Other titles also include Mystery of Antiques II, a crime thriller series directed by veteran filmmaker Guan Hu; and Happy Hunter, a sci-fi romantic comedy series produced and featuring actor-filmmaker Bao Bei'er.
Bao, best known for the 2016 hit comedy Lost in Hong Kong, says the series uses visual effect designers from the Hollywood blockbuster franchise Guardians of the Galaxy.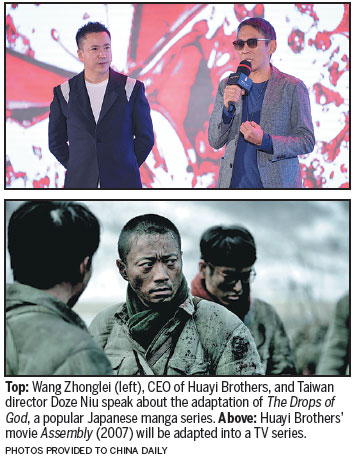 (China Daily 11/30/2017 page19)