Dramatic effect
China's box-office earnings have surpassed 50 billion yuan for the first time, with domestic movies doing better than imported titles. Xu Fan reports.
Propelled by the success of Wolf Warrior 2 - this year's fifth-highest-grossing movie worldwide - China's box-office takings have exceeded 50 billion yuan ($7.58 billion) for the first time, a historic annual high.
The State Administration of Press, Publication, Radio, Film and Television, the country's top regulator of the sectors, released the record figures for the year on Nov 20 - around 40 days before year-end.
On top of this, Chinese cinemas registered 1.45 billion admissions for the same period, an increase of 19 percent year-on-year, according to the administration.
Domestic movies edged out imported titles to rake in 26.2 billion yuan, accounting for 52.4 percent of the total box-office revenue. Foreign movies released in China took in 23.8 billion yuan, or 47.6 percent of box-office takings.
The rise in blockbusters saw 13 movies respectively gross more than 1 billion yuan, four more than last year. At the same time, 82 movies screened this year earned more than 100 million yuan each.
Wolf Warrior 2, the Chinese Special Operation Forces-themed action thriller, has topped the country's box-office charts with earnings of up to 5.68 billion yuan. It is followed by The Fate of the Furious, the eighth installment of the Hollywood car-racing franchise, with earnings of 2.67 billion yuan.
Chinese comedy Never Say Die seized the third slot with 2.2 billion yuan. Jackie Chan's Kung Fu Yoga took fourth place with 1.75 billion yuan, followed by Hong Kong director Tsui Hark's fantasy drama Journey to the West: The Demons Strike Back, which took in 1.65 billion yuan.
The remaining five of the top 10 movies on the box-office charts were all import. They are, respectively: Transformers: The Last Knight; Dangal; Pirates of the Caribbean: Dead Men Tell No Tales; Kong: Skull Island; and xXx: The Return of Xander Cage.
With the release of Chinese movies expected to gather pace over the coming weeks, such as Chen Kaige's Legend of the Demon Cat and Feng Xiaogang's Youth, some industry watchers estimate that this year's total box-office earnings could reach 55 billion yuan by the end of December.
Taking into account the current growth rate, Miao Xiaotian, general manager of China Film Co-Production Corp, predicts that China will overtake the United States to become the world's market leader within at least three years.
"The movie industry expanded too quickly between 2012 and 2015. Despite growth experiencing a slowdown since last year, it has been good to see a shift toward more stable and sound development," says Miao.
Dong Wei, an emerging director who recently saw his debut The Looming Storm win two top awards at this year's Tokyo International Film Festival, also senses the change.
He says the cooling market has helped to squeeze out a number of unqualified filmmakers and reduce the number of poor productions.
Liu Hanwen, head of a movie-research institute affiliated with the country's top regulator, regards the new box-office record as a landmark worthy of celebration and a sign that China is a major force for growth in the global movie industry. Rao Shuguang, secretary-general of the China Film Association, says the theater-admission numbers are an important means of assessing China's potential in the industry.
"The rise of admissions shows that more and more people are walking into cinemas. Chinese people have gotten used to watching movies as part of their major cultural consumption," says Rao.
"It gives industry players hope and opportunities but also means they should aim to produce better films to widen their appeal."
According to domestic media reports, China now has over 48,000 cinema screens in more than 8,500 cinemas, a sharp increase over 3,024 screens in 1,325 cinemas in 2006.
With China seeing an unprecedented expansion in its domestic market, Chinese-made films making forays into overseas markets are also making progress.
The latest available figures show that Chinese movies' overseas sales totaled 3.52 billion yuan by mid-October, with the top title being Zhang Yimou's fantasy epic The Great Wall.
The movie featured such Hollywood stars as Matt Damon and Willem Dafoe, and was screened in mainstream cinemas across North America - a sign that coproductions may boost Chinese films' international appeal, Miao says.
Wolf Warrior 2, China's highest-grossing film of all time, is another case in point that exemplifies efforts by Chinese filmmakers to increase their influence overseas.
Wei Jingyi, vice-president of leading Chinese overseas distributor CMC Pictures, says Wolf Warrior 2 has so far been shown on more than 300 screens in over 40 cinemas in 16 countries and regions worldwide, including Sri Lanka and Tanzania.
Raking in a total of around $4.85 million overseas, Wolf Warrior 2 has become the highest-grossing Chinese mainland movie of all time in Malaysia. It topped the Chinese-language film charts in Australia and New Zealand.
"Most of the overseas audiences are Chinese, but we've also seen some European viewers walking into cinemas to watch Wolf Warrior 2. Foreign distributors are becoming more interested in Chinese content," adds Wei.
Contact the writer at xufan@chinadaily.com.cn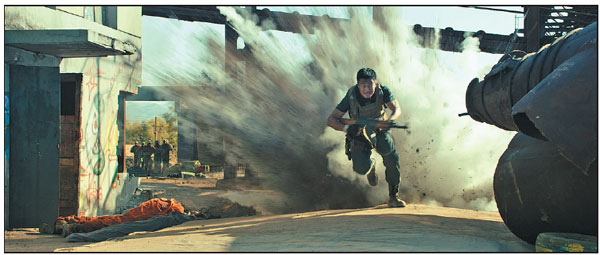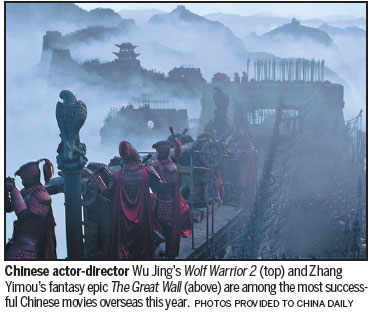 (China Daily 11/28/2017 page19)