Chinese TV shows win foreign fans
Wide interest from abroad demonstrates maturity of domestic production industry
With the fantasy series Tribes and Empires: Story of Prophecy soon to be aired in South Korea, the United States and Canada, China will have a new hit to be fancied by foreign audiences.
The 75-episode television series, chronicling fights for a throne in a fictional dynasty, quickly attracted more than 100 million views four hours after its online release in China on Tuesday.
Distributors revealed more foreign markets, including Vietnam, Malaysia and Japan, have shown interest in broadcasting the series.
China's rapidly developing television industry has seen more genres welcomed by overseas markets. In the past, foreign buyers didn't have many choices and they mainly focused on documentaries and animated productions, but now they also are paying attention to Chinese historically themed dramas.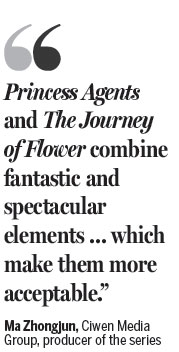 Yang Le, a longtime distributor, has observed these changes in the past decade. When she toured Cannes to promote Chinese television dramas in 2006, Yang was disappointed with her first visit to MIPCOM, the world's largest trade show for entertainment content held in the French city each October.
Only a few Chinese companies were there, and they struggled to hold the attention of prospective foreign buyers.
But Yang's recent trip to Cannes for this year's trade show, held from Oct 16 to 19, was a pleasant surprise.
More than 200 prospective foreign buyers visited her company's exhibition area, which featured imperial-style costumes and ornaments used by lead characters in three upcoming TV series - Zhao Ge, Story of Yanxi Palace and Untouchable Lovers.
Zhao Ge, named after an ancient dynasty's capital, is based on heroes and romances going back about 3,000 years; Story of Yanxi Palace is set in the reign of 18th century Emperor Qianlong and chronicles the rise of a royal maid to be the ruler's most-loved concubine; while Untouchable Lovers is about a fake princess who is dragged into controversy in fifth century China.
"The prospective customers were not just interested in the stories, but they were also drawn by the Chinese culture and history behind them," said Yang, now the chief executive of Dongyanghuanyu Film & Television Culture Co Ltd.
Besides the display of the props, a documentary on exquisite embroidery and ornament making was shown at the exhibition, attracting a lot of interest.
So far, more than 20 prospective customers - coming from countries including the United Arab Emirates, Poland and Pakistan - have shown interest in purchasing the distribution rights of Zhao Ge.
There are five queries for Story of Yanxi Palace. Separately, buyers from Malaysia and South Korea already have signed contracts for Zhao Ge.
With China becoming one of the world's largest television content producers, Yang's recent experience in Cannes is a snapshot of the growing influence of the Chinese television industry.
This year, more than 13,900 delegates and 4,800 buyers from over 110 countries attended MIPCOM to market programs and formats for international distribution. More than 100 Chinese companies and agencies comprising 400 delegates attended.
Statistics from the State Administration of Press, Publication, Radio, Film and Television show that China so far has translated more than 1,600 domestic movies and television productions into 36 languages - including English, French, Russian, Spanish, Arabic and Portuguese - and they are being aired in more than 100 countries.
Last year, China's exports of TV series earned 510 million yuan ($77.2 million), accounting for 68 percent of the total earnings from exported television content, according to the administration.
Yang Zheng, deputy director of the administration's television regulation division, said Chinese television content has already earned a reputation around the world.
He said the administration has a five-year project to promote Chinese TV series abroad and will encourage domestic producers to join more international events in North America, Europe, Africa and Asia.
China's television industry has seen an improvement in its storytelling skills and filming techniques in recent years, paving the way for local producers to expand into overseas markets and seek collaboration with top players in the West, Yang said.
In 2015, the series Empresses in the Palace was released in the United States and in 2016 Nirvana in Fire - about fights for a throne - was aired by mainstream broadcasters in Africa. Earlier this year, the drama The Journey of Flower was shown in the United Kingdom and France.
The series, adapted from a namesake online novel, is about an unlikely romance between a master and his young disciple.
This year, another hit, Princess Agents, about a sixth century female slave trying to be a powerful military leader, has set a record for YouTube views - at nearly 3 billion - making it the most-watched Chinese TV drama internationally.
Its overseas distributor says it plans to translate Princess Agents into nine languages and broadcast it in some 85 countries and regions.
"Princess Agents and The Journey of Flower combine fantastic and spectacular elements with China's history, which make them more acceptable to viewers outside China," said Ma Zhongjun, chairman of television maker Ciwen Media Group, producer of the two series.
He said the company has targeted overseas markets for many years and discovered that stories with universal values - love, brotherhood and loyalty - can be easily understood by foreign viewers even if they have limited knowledge of ancient China.
Meanwhile, even as China is active in taking its small screen content to the rest of the world, potential buyers and industry watchers outside China pointed to potential challenges.
Michael Nakan, founding partner of the London-based movie and television agency Clipper Media Capital, said Western viewers are interested in China because of the country's booming economy during the past two decades. But he said some genres will be hard to sell.
"Comedy is something of a write-off. It rarely travels beyond its home territory. For example, it's hard to find French comedy which appeals to a British audience," Nakan said.
"Also, the number of episodes is a key sticking point. Most British series are only six episodes, and even American dramas are getting shorter," he said.
So, with many Chinese historical dramas still being produced in tranches of 30-plus episodes, it will become increasingly difficult for Western audiences to engage with them, Nakan said.
When Empresses in the Palace was streamed on Netflix in the US, its original 76 episodes were cut to six to cater to Western viewers.
But the condensed version had an impact on the characters, twists and suspense, and the public response to the serial did not meet the distributors' expectations, according to some Chinese industry analysts.
Anke Redl, founder of China Media Management Inc - the Beijing-based representative of MIP events - said most fans of Chinese television dramas abroad are limited to the Chinese community and Western audiences will get lost while following the same plots.
Redl said stories coproduced by Chinese and Western teams, especially with professionals who understand both sides, will work with foreign audiences.
xufan@chinadaily.com.cn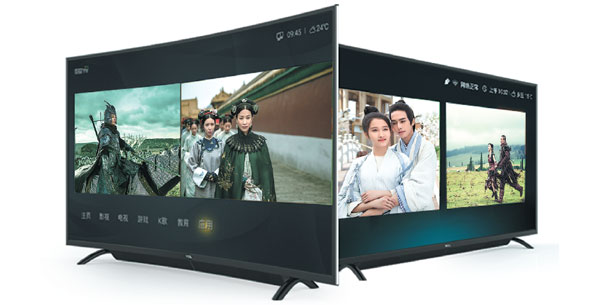 (China Daily 11/27/2017 page1)