Chinese pianist tells range of stories in music
Zhang Haochen, the youngest gold medal winner of the Van Cliburn International Piano Competition, made his Carnegie Hall solo debut on Nov 18 in New York, treating the audience to a wide-ranging program of classics.
"From the intimate recollections of childhood in Schumann's Kinderszenen to the grotesque portrayal of war in Prokofiev's Piano Sonata No 7, this program is indeed a far-reaching journey," says the 27-year-old pianist.
"Beneath this wide-ranging musical narrative, however, are layers of some simple and concise dualities."
Zhang explains that the selection aims to present a series of dialogues simultaneously unfolding - Austro-German and Eastern European, miniature and large-scale, romantic and modern, programmatic and absolute music - to the audience.
"The Kinderszenen and the Symphonic Etudes, as opposing as they are meant to be, are both filled with Schumann's most personal romantic spirit. Liszt, with his own wild romanticism, boldly explores the sea of imagery," Zhang writes describing his thoughts in the program. "Janacek goes further into the realm of abstract allusions, gradually stepping into the 'mist' of unknown psychological territories; and in the end, everything breaks apart in Prokofiev's fury and violence."
Originally from Shanghai, Zhang has already established an international career. As a graduate of the Curtis Institute of Music where he studied under Gary Graffman, the 2009 winner of the Van Cliburn piano contest was awarded the Avery Fisher Career Grant this year.
Zhang has also worked with China's National Center for the Performing Arts orchestra and performed the Yellow River Concerto with the same orchestra at Carnegie Hall in October.
"It's my recital debut in New York City. I've performed recitals in more than 40 states in the US but never actually in New York," says Zhang.
"It's the arts capital of the US, so I'm very excited and honored."
Asked about his performing style, Zhang says: "I've already formed who I am as an artist, and when I play pieces I know exactly what I'm looking for. I think I'm more drawn to introspective music that can get me to contemplate more. Obviously I love to absorb as many various styles as possible, but the introspective part of music is what makes me feel most comfortable."
Zhang says that music is a lifetime pursuit. "There is no end for musicians, it's not like athletes who win Olympics championships. There are no actual goals and scores for musicians - just to keep reaching beyond your limit and to keep exploring."
ruinanzhang@chinadailyusa.com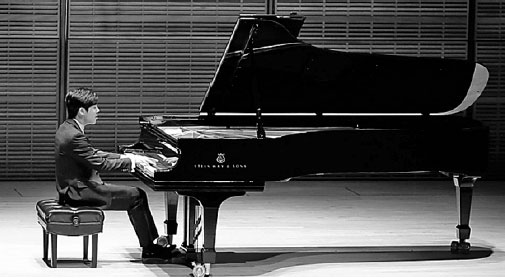 Zhang Haochen makes his solo debut at Carnegie Hall in New York on Nov 18. Hong Qunchao / China Daily
(China Daily 11/27/2017 page20)