American Melodies
Indigenous musician Alexandro Querevalu is set to stage third China tour. Chen Nan reports.
The Last of the Mohicans - the soundtrack of the 1992 film by the same title, starring Daniel Day-Lewis - was composed by Trevor Jones and Randy Edelman.
The film is directed by Michael Mann and based on the 1826 novel by US writer James Fenimore Cooper. It's set in 1757 and portrays Native Americans against the backdrop of the French and Indian War. Many other films based on the same book have been made in Hollywood.
The 1992 movie and its music touched audiences worldwide, and Native American musician Alexandro Querevalu is one such fan.
He has adapted the music into his signature works, such as The Last of the Mohicans, El Condor Pasa and Yo Soy. He uses traditional wind instruments such as the quena (Andean flute) and zamponas (a type of panpipe).
Querevalu will embark on a China tour, visiting more than 20 cities from Dec 10 to Jan 26.
"I perform the theme song of the movie in my own style, showing my inner feelings. It almost sounds as if I'm crying," the musician says.
Querevalu has toured China twice since 2016.
His signature music, he says, transcends "the boundaries of this kind of music throughout the world and has a uniting effect on people of all races, nations, religions and cultures.
"In the past, not many people knew about Native American music or the instruments used to produce it. With the songs I play, I hope that people can now see and hear how a simple flute can touch the soul."
He portrays emotions such as sadness that have touched his own life.
Querevalu uses sounds of nature - water, rocks and birds - and creates more with nuts, whistles, rattles and paper.
"The instruments I play are ancient Andean instruments, which have existed since the dawn of the American civilization. They are very popular in the land of the ancient Inca Empire, which means 'the four sides of the sun'," says the 43-year-old musician.
Querevalu had a tough childhood in Lima in the 1980s and '90s. Peru was then hit by an economic crisis and the cholera epidemic, and many people lost their jobs and lives.
He was a teenager then, seeking peace in music while his parents struggled financially.
Querevalu's family has musical roots.
"My great-grandfather was a well-known Native American musician who played the Andean harp. My father and my uncles were singers. I always remember my father singing beautiful melodies at home. My mother's cousins also performed traditional music," he recalls.
At age 8, he started playing the recorder. Later, at school, he learned to play the Andean quena. He got the second prize for his performance at the Festival of Andean Music in Lima in 1989.
At 18, he left for Poland, where he joined bands and played with musicians from different countries, such as Sweden and Germany.
He started performing as a solo artist in 2010.
He does his own makeup for performances and he tries to portray a traditional Native American look, he says, by painting his face in battle colors.
Chinese fans of Querevalu launched an account on Sina Weibo to promote his music in 2016. The account now has about 50,000 followers.
Beijing-based music promoter Huang Rong discovered Querevalu's music on the Chinese micro blog.
"I didn't know his name and where he came from until then. I contacted him online and bought his CDs from Poland where he lives. After listening to all of his music, I invited him to tour China," says Huang.
"The music Querevalu plays contains lots of history and stories, which fans - despite differences in culture - can relate to and share."
Contact the writer at chennan@chinadaily.com.cn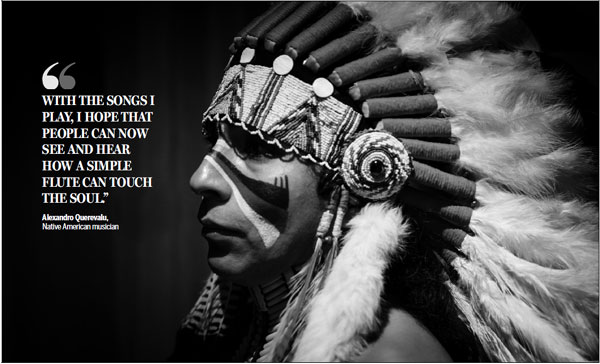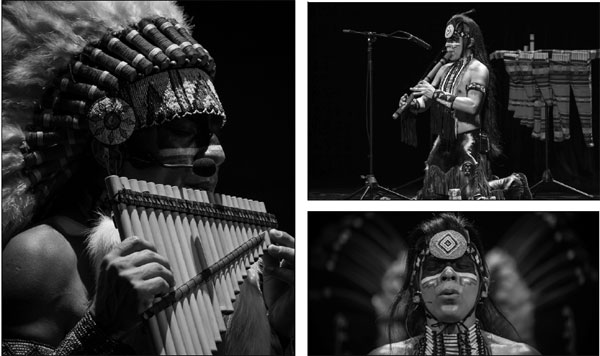 Alexandro Querevalu will tour China from Dec 10 to Jan 26. The musician usually does his own makeup for performances and tries to portray a traditional Native American look. Photos Provided to China Daily
(China Daily 11/23/2017 page20)