Buzz among film buffs as Chinese thriller shines at Tokyo festival
Director Dong Yue's first feature film, The Looming Storm, recently won two top awards - for best actor and best artistic contribution - at the 30th Tokyo International Film Festival, leading to a buzz among crime noir fans.
On Friday, the two-hour feature arrived in Chinese theaters, and has so far scored 7.2 points out of 10 on the country's popular review website Douban.
But Dong is not intoxicated by the achievement.
"The reviews seem polarized. I will take a break to think more about how to balance market expectations and art," says Dong.
When Dong decided to quit his cinematographer job to become a director in 2010, his goal was clear: to make a serious movie that doesn't fool audiences.
He was looking for inspiration when in 2013 a report about a once abandoned town in northwestern China gripped his attention.
The industrial city of Yumen in Gansu province was once one of the country's largest oil production bases, but most of the locals left in the 1990s after drilling stopped.
"Only some of the elderly who were unwilling to leave insisted on staying in the desolate area. The atmosphere there sets the tune for my movie," says Dong in a telephone interview.
At the same time, Dong, a fan of crime-themed productions, had developed a strong interest in a serial killer case, which saw 10 Chinese women and an 8-year-old girl brutally killed in Baiyin, in Northwest China's Gansu province.
Dong had wanted to do a cinematic adaptation of the case, but he failed after a series of attempts, including contacting the first Chinese journalist who reported on the case in the 1990s, and flying to Baiyin himself to get first-hand information.
"I was a newcomer. Without enough resources and necessary authorization, I discovered that it would be impossible to do the adaptation," he explains.
But then there was a coincidence.
When Dong met Duan Yihong, the A-list actor who had won several acting awards for The Dead End, he heard that the Chinese police had arrested the Baiyin serial killer Gao Chengyong, also referred to as China's "Jack the Ripper".
"It was Aug 26, 2016. I clearly remember the details of that day. When I was discussing The Looming Storm's script with Duan (who later agreed to act in the movie), local police in Gansu were hunting for the murderer," says Dong.
The film, set in a rainy, unnamed town, is about a factory security chief's hunt for a serial killer, who kills young women.
Despite the storyline, Dong is not satisfied with merely making a crime thriller.
The American magazine, Hollywood Reporter, says that "China's competition entry (referring to The Looming Storm) at this year's Tokyo Film Festival is a think piece, thinly disguised as a murder mystery."
The movie doesn't focus on solving the puzzle to reveal who the killer is, as numerous genre whodunits do. Instead, it centers on exploring the humanity of those who were involved as well as a look at the era that the movie is set in.
"I was a college student in 1997 in Beijing. My uncle worked at the Chinese Academy of Social Sciences back then. He told me about some of the huge changes happening then and how they influenced ordinary people. I was interested in depicting that era in my movie," Dong says.
The film was shot in Hengyang, Hunan province, as the city has a lot of structures built in the 1990s.
Besides Duan, the cast features actress Jiang Yiyan, known for her arthouse dramas, and actors Du Yuan and Zheng Wei.
Speaking about the domestic movie industry's demanding environment for young talent, Dong says moviemaking is a time-consuming job.
"I know many newcomers give up. You have to love it (cinema). A serious movie project needs at least three years," says Dong.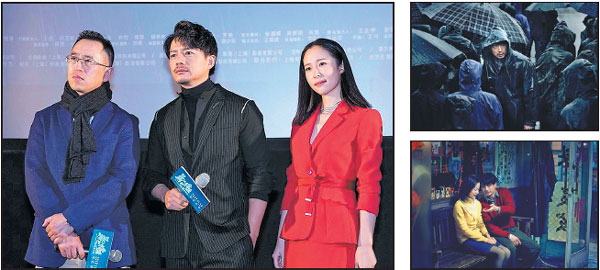 Left: Director Dong Yue (left) alongside actor Duan Yihong and actress Jiang Yiyan share behind-the-scenes stories of The Looming Storm with audiences at the film's Beijing premiere last week. Right: Duan and Jiang star in the Chinese film.Photos Provided to China Daily
(China Daily 11/23/2017 page19)