Local opera takes to a new stage
As an oil painter who is also a fan of Ganju Opera, Yu Xiaofei reveals the charm of Chinese traditional culture using Western painting techniques.
His solo art exhibition is on at the National Center for the Performing Arts in Beijing through Thursday, featuring over 20 oil paintings and some color drafts on the opera.
Yu has donated one of his paintings, titled Xiju Rensheng: Xunyan (Drama Life: Tour) to the center.
Another painting, Xiju Rensheng (Drama Life) won the gold prize at an oil painting exhibition in Nanjing, Jiangsu province, organized by the Chinese Artists Association in 2012.
Commenting on Yu's Xiju Rensheng, Ding Ning, vice-president of School of Art at Peking University, says: "Everything seems to be flat but with great waves. The scene seems like a play but also a situation in life. It seems like everything has been left alone and nothing has been pushed around, but something is heavier than the play itself."
Ding says he also sees other meanings.

Yu, 55, an associate professor at Shangrao Normal University for almost two decades, was born and raised in Shangrao city in Jiangxi province.
He grew up near a cultural center among professional art designers and painters. At 12, he was attracted by the artists' works and picked up the brush.
Professionals and teachers in primary school recognized his talent.
He joined the school's painting group as an extracurricular activity and took part in poster creation for the school and the center, and many children's art exhibitions.
Praise and encouragement led him to develop painting as a hobby, but what really drove Yu was his inner passion.
"I was not driven by the benefit in the college entrance examination, or any possible financial gains, but only pure personal interest," he says.
Yu did not come from a rich family and painting meant an extra expense.
Speaking about how he developed as an artist, Yu, who studied art at Shangrao Normal University from 1979 to 1981, says: "I considered myself already skilled at that time, but my taste and judgment had not been fully developed.
"It was very hard for Chinese to learn about oil paintings, because most people didn't get the chance to appreciate exhibitions overseas, not even good prints."
He was grateful for his one-year study experience at the China Academy of Art in Hangzhou, Zhejiang province, later in 1996, where he met many helpful tutors, including Wang Chengyi, who shared what they learned from the West.
Since 1996, Yu has been spending weeks in Wuyuan, a county near Shangrao, almost every year, where he stays with local residents in their houses, and paints still life. He paints whatever he sees - ancestral shrines, kitchens, fish and vegetables.
One of his paintings, Laolao De Zuci (Grandmother's Ancestral Shrine), inspired by his stay in Wuyuan, won an award of excellence at a national oil painting competition organized by Chinese Artists Association in Shanghai in 2006.
During his visits, Yu came across Ganju Opera troupes in the county many times.
"People love the opera. They await the troupes like fans waiting for their idols to appear," Yu says.
"They bring stools from home, sitting and chatting in front of the stage long before the performance."
After years of observing this phenomenon, Yu started to paint backstage scenes in 2012.
Yu describes himself as a painter who is directly connected with his subjects, so he spent a large amount of time painting backstage.
Yu says that although painting in private studios allows deliberation, he prefers creating art on the spot.
"I believe that painting is closely tied with emotions," says Yu, adding that he often gains unexpected inspiration while painting at the scene.
He says he remembers an actor who didn't have a settled address.
"He had only the address of the troupe's headquarters when I wanted to send some photos to him," says Yu.
He also talks about a young performer he cannot forget. When they met for the second time, she recognized Yu but she was hiding from him. Yu wondered why until he discovered that she had pimples on her face. "She was allergic to the makeup that she has to put on every day."
Although Yu has spent years focusing on the traditional opera, he is still exploring.
He wants to paint bigger scenes such as the troupes moving and outdoor performances.
If you go
9 am-5 pm, through Thursday. 2 Chang'an Avenue, Xicheng district, Beijing. 010-6520-2577.
xuhaoyu@chinadaily.com.cn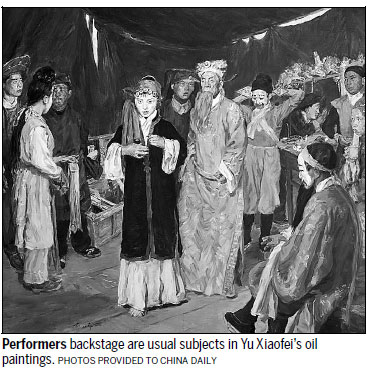 (China Daily 11/21/2017 page20)