Music streaming giants forge partnership to boost Chinese music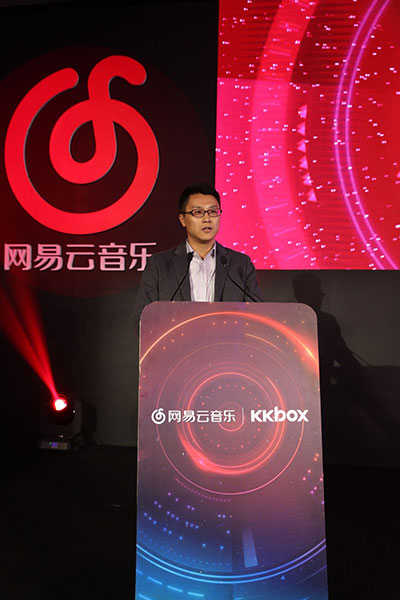 NetEase Cloud Music CEO Zhu Yiwen announced to cooperate with Taiwan's music streaming site KKBOX to promote Chinese music. [Photo provided to China Daily]
Music streaming giants NetEase Cloud Music and KKBOX recently announced plans to establish a strategic relationship to promote Chinese music across the world.
The plan includes promoting new songs, organizing concert tours, supporting young talent to create original songs and short videos.
Every Tuesday, 20 new songs will be recommended on the front-pages on the two partner's online platforms, including apps and websites.
Both of them have a huge store of music content.
KKBOX, which was founded by Taiwan music enthusiasts in 2004, has more than 40 million songs with licenses from over 500 music companies, while NetEase Cloud Music, which recently saw its users surpassing 400 million, has more than 10 million songs.
As the Hangzhou-headquartered NetEase Cloud Music's major market is the Chinese mainland and the Taiwan-based KKBOX has influence in Southeast Asian countries, like Japan, Singapore and Malaysia, the two will use their respective geographical advantages to promote Chinese music.
Zhu Yiwen, the CEO of NetEase Cloud Music, says the story of Taiwan's legendary singer Chen Da inspired him to establish the relationship.
Once an unknown gifted singer of folk songs, Chen was discovered by music researchers in 1960s. And thanks to their recommendations and promotion, Chen gained huge popularity in Taiwan.
"Music has two lives. One is from when it is created, and the other is from when it is spread. Good music should be promoted so more people hear it," said Zhu.