Boost for young musicians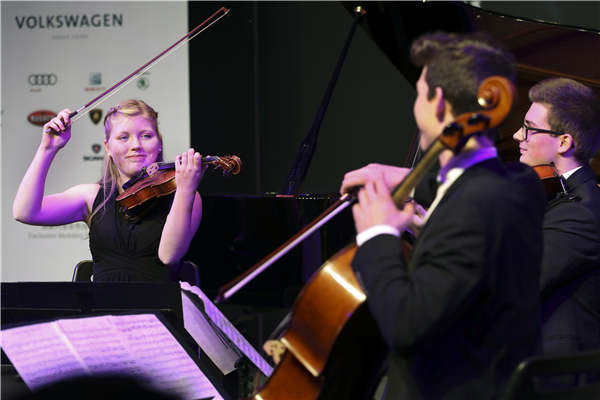 German youngsters perform at the Beijing concert. [Photo by Zou Hong/China Daily]
A concert gala of the second China Youth Music Competition, based on the format of a contest in Germany, has just been staged in Beijing. Chen Nan reports.
When he finished playing Claude Debussy's Toccata from Pour le Piano at a concert gala recently, 11-year-old Jiang Yicheng stood up and bowed to the audience, who gave him a long and warm round of applause.
"I enjoy playing the piano and I like playing with other musicians," says Jiang, who also performed Camille Saint-Saens' Oboe Sonata in D Major, Op 166, along with 12-year-old oboist Zhi Yi.
Jiang, a Beijing native born to parents who are athletes, started learning the piano when he was about 6 years old.
He was introduced to music by his grandfather, who was a big fan of Taiwan pop star Teresa Teng.
Three years ago, the boy started learning piano with renowned pianist and educator Li Qifang.
Jiang recently won three first prizes-one for solo piano performance and two for chamber music (stringed and wind instruments)-and the second prize for piano duet performance at the second China Youth Music Competition.
The competition's Hummingbird Music Award-which was also awarded to other prize winners-was presented to him at a concert gala at the Pudu Temple, a Ming Dynasty (1368-1644) site, in Beijing on Sunday.