Chinese hip-hop singers make UK debut in Manchester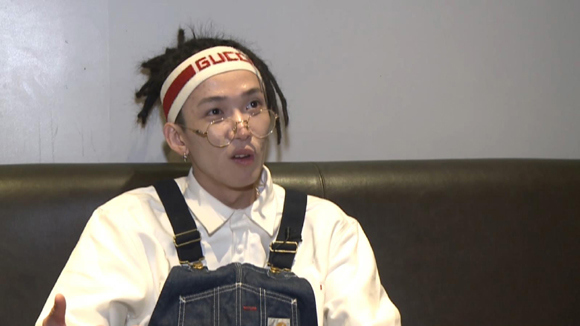 Chinese hip-hop artist Tizzy T. [Photo/CGTN]
As hip-hop catches on in China, three of its most hyped home-grown rap singers are making their UK debut in Manchester.
The biggest star is 24-year-old Tizzy T, who's dominated the Chinese hip-hop scene after his appearances on the online reality show "The Rap of China".
His freestyle has attracted hundreds of fans from Manchester, and many other cities like London and Liverpool.
"Many young men in their 20s would have the same feeling as me. It is a feeling of both love and hate for my girlfriend. Why do you break up with me when I'm so in love with you?" said Tizzy T. "So I will write it in my script – Don't worry, don't worry, my girl, I don't want to make up, I just want to say your boyfriend is so ugly. It doesn't matter. You are like a couple. Please introduce him to me because I thought you would. These are the lyrics in my song, which is very straightforward, very simple."
Once considered part of the underground, hip-hop in China is going mainstream and taking the music scene by storm. "I just never have seen the rise of a form of music so quickly. Maybe several months ago nobody would have been talking about Chinese hip-hop. Now everybody is talking about Chinese hip-hop. So it is a phenomenal rise," said Modern Sky UK's CEO Dave Pichilingi. "As it develops and changes, it will be new artists come through, different styles of hip-hop would come through."
The hip-hop frenzy in China can be felt in Manchester, as nearly all of the audiences are overseas Chinese students. The Chinese lyrics and stories are relevant to their daily lives.
"Chinese hip-hop doesn't have so much violence because we've grown up in a safe social environment. We've never seen people die on the street, nor drug and violence scenes. Perhaps there's violence in China but it's very far from our lives," said jazz-hip-hop singer Kafe Hu.
After the debut in Manchester, China's biggest indie label Modern Sky is planning to bring more Chinese rap singers to the UK. But for western audiences, hip-hop is not a genre associated with China.
"You have seen the audience tonight is Chinese people. So we really try to cross that over to Western audiences, we need to make it relevant to Western audiences," said Dave Pichilingi. "What we are aiming to do is trying to bring Chinese hip-hop artists abroad to collaborate with western hip-hop artists and western grand masters to rise on together. They can cross over both east and west."
Even as hip-hop continues to gain popularity domestically, Chinese rappers still have a long way to go to win over international audiences.