Tianjin festival offers a feast for city's opera fans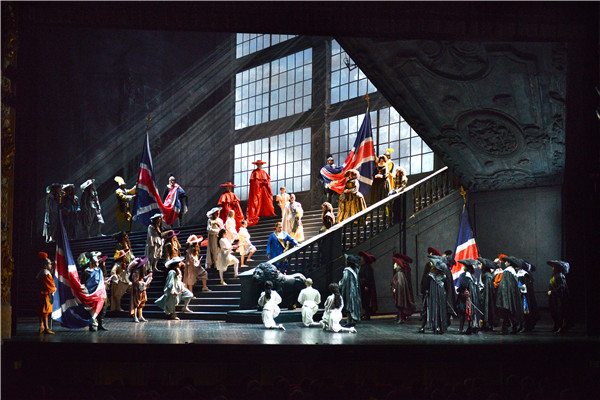 The ongoing Tianjin opera festival features six productions, including Carmen and A Masked Ball. [Photo provided to China Daily]
In 1978, the China National Opera House staged Giuseppe Verdi's opera La Traviata, which was conducted by Zheng Xiaoying in Tianjin.
It did 40 performances in a row, and the opera attracted more than 80,000 people, which was a phenomenon for the northern Chinese city at the time.
However, no Western operas were staged there from then until 2013.
In 2012, the Tianjin Grand Theater was launched. And Tianjin's local chorus and symphony orchestras performed Giacomo Puccini's opera Tosca under the baton of Tang Muhai, as the opening performance for the theater.
Tosca was a joint production of the Tianjin Grand Theater and the Puccini Festival, an annual opera festival held in Italy every summer.
Over two nights, the opera attracted more than 2,000 people, and most importantly, it laid the foundation for more Western opera productions to visit Tianjin.
In 2014, the Tianjin Grand Theater launched the Tianjin International Opera and Dance Festival, an annual event which aims to promote opera in the city.
Now, in its fourth year, the festival is being held at the Tianjin Grand Theater over Nov 9-30, with six opera productions by three Italian opera companies doing 12 performances.
The Teatro dell'Opera di Roma, or Rome Opera House, kicked off the festival with French composer Georges Bizet's classic opera Carmen on Nov 9 and 11. It will perform La Traviata on Nov 23 and 25.