Chinese musical 'Shimmer' to hit Broadway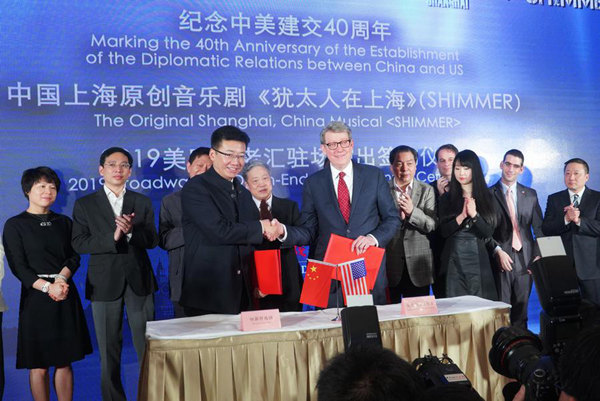 Shanghai Hengyuanxiang (HYX) Drama Development Company, the producer of Shimmer, and Nederlander Worldwide Entertainment sign a deal on Nov 6 to bring the production to Broadway. [Photo/Xinhua]
The original production Shimmer has become the first Chinese musical to have an open-ended run in Broadway starting in 2019.
Shanghai Hengyuanxiang (HYX) Drama Development Company, the producer of Shimmer, and Nederlander Worldwide Entertainment signed a deal on Nov 6 to bring the production to Broadway.
The musical will also begin its open-ended run in Shanghai in 2019.
Shimmer, which tells a story about Jews who fled to Shanghai to escape Nazi persecution during World War II, premiered at the Shanghai Culture Square in 2015. Five days later, the musical was chosen as the opening show for the 17th China Shanghai International Arts Festival. In December last year, it was presented at the Edison Ballroom in Times Square.
Directed by Xu Jun, Shimmer is a bilingual musical and performed in both English and Mandarin.
"It's a milestone for Shimmer in its goal to further spread its influence to the world," said Chen Zhongwei, president of Shanghai HYX Drama. "In the next two years, our team will polish the story and the performance to Broadway standards, providing the audience with the highest level of musical art."
The musical will also be presented in 2019 to mark the 40th anniversary of the establishment of diplomatic relations between China and the US.
"Through this drama, the audience can feel the charm of Chinese culture," said Sean Stein, consul general of the Consulate General of the United States in Shanghai.
"With this play being shown on Broadway in the future, the ties between the Chinese people and Americans will be firmly strengthened."