Berlin Philharmonic returns to Shanghai with sellout shows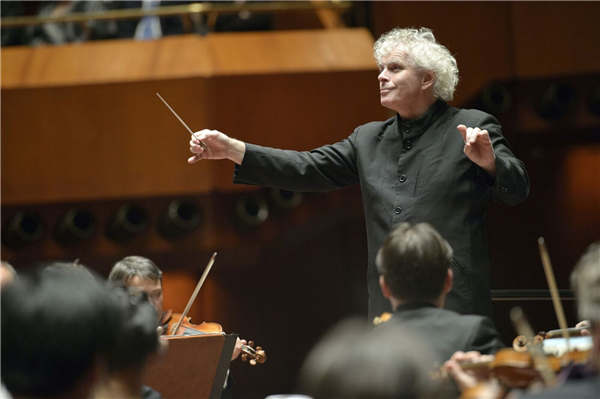 Sir Simon Rattle is leading the Berlin Philharmonic on its tour of China. [Photo provided to China Daily]
All the tickets for the two upcoming Berlin Philharmonic concerts in Shanghai sold out within 26 hours on Sept 17 and 18, a record for a live performance.
The German orchestra is performing at the Shanghai Oriental Art Center on Nov 16 and 17 as the final leg of its China tour.
This will be the second time the world-renowned symphony orchestra has played at the Shanghai Oriental Art Center.
The first time was in 2005, when the theater had just been launched. The concert caused such a sensation that it made it onto the city's top 10 cultural news stories of the year, says Lei Wen, president of the theater.
"The ticket price has been significantly lowered this time relative to the price 12 years ago," Lei says.
It is still extremely expensive to introduce a top-notch symphony with 100 plus pieces, she says. But thanks to commercial sponsors such as Borgward, a German carmaker, "We have lowered the highest ticket price from 4,000($604) to 3,480 yuan, and the lowest ticket price from 300 to 80 yuan," Lei says.
In general, the average ticket price is 30 percent less than the last time the orchestra performed at the venue.
Avid music lovers waited outside the theater for the box office to open on Sept 17. Some even stayed at a hotel nearby.
"I was lucky," says Shi Yingying, a 32-year-old office worker who bought a ticket for 1,288 yuan, after waiting for three hours. "By the time I arrived, some had left because the first night tickets were all sold out."
"I fell in love with classical music listening to recordings of the Berlin Philharmonic. Now they are here in my city, and I don't want to miss it."
Luo Xueqin, vice-general manager of Shanghai Oriental Art Center, says: "People's enthusiasm was far beyond our expectation. We will be better prepared in the future, and improve our online booking system."