Suzhou ballet troupe takes to Europe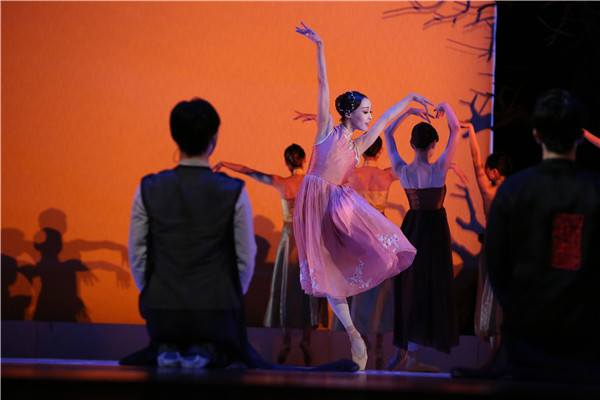 Suzhou Ballet Theater's version of Romeo and Juliet gives the classic play a Chinese look. [Photo provided to China Daily]
In 2007, ballerina Li Ying decided to retire at the age of 38.
It was a tough decision because she had foot surgeries twice already and had been forced to endure the pain of recovery while dancing.
Her husband, Pan Jiabin, also a former ballet dancer, retired that year too to support his wife, and the couple returned to Pan's hometown of Suzhou, Jiangsu province, where they founded the Suzhou Ballet Theater, one of the country's youngest ballet troupes, the same year.
The couple met at the Beijing Dance Academy and were married in 1991. Both of them had been principal dancers with the National Ballet of China from 1987 to 1992 and joined the US ballet company BalletMet in Columbus, Ohio, before dancing with the Pittsburgh Ballet Theater for 12 years until 2006.
"Although I stopped dancing onstage, I have never stopped dancing in my mind," says Li, who was born in Shanghai and started dancing at the age of 11.
Celebrating its 10th anniversary this year, Suzhou Ballet Theater began its one-month debut tour in Europe from Oct 30, presenting 10 shows of the troupe's original ballet work, Romeo and Juliet, in nine cities including Paris, Amsterdam and Hasselt in Belgium. The company had previously performed in many countries around the world including Poland, Singapore, Qatar and Bahrain.
Choreographed by Li and Pan, the ballet, Romeo and Juliet, gives William Shakespeare's classic play a distinct Chinese look.
"The story of Romeo and Juliet is well known to Western audiences but I believe that they will be surprised to see our production with all these Chinese elements," says Li.
For example, a Chinese paper fan is used to carry the message, and a gourd is used as a container for poison. The changing shapes of the moon on the stage set also reflect the emotions of the main characters, from a crescent moon to a full moon.