Fresh take on Swedish work at drama festival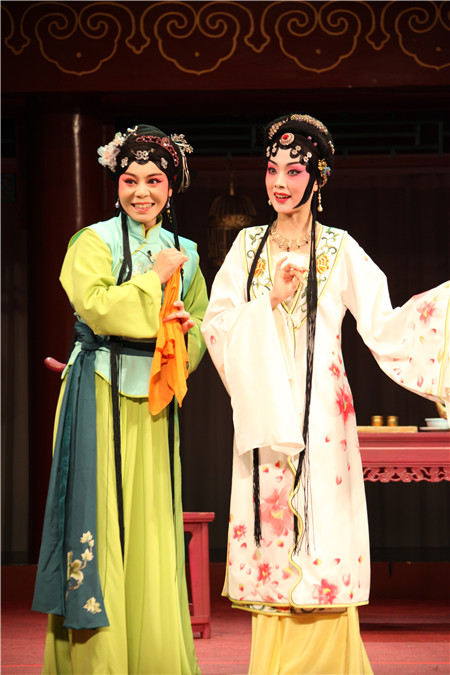 The Swedish play Miss Julie is adapted into a Yuju Opera and staged in Beijing. [Photo provided to China Daily]
Miss Julie, one of Swedish playwright August Strindberg's most representative works written in 1888 and noted for its naturalistic style, has been adapted for the stage as a traditional Chinese opera.
In May 2014, the play was adapted by students and teachers of the National Academy of Chinese Theater Arts into a show performed as a Yuju Opera, a traditional opera form that originated in Henan province during the Ming Dynasty (1368-1644).
The show will now be staged under the same title on Nov 4 as part of the ongoing 6th Beijing College Students Drama Festival.
"We initially took a few parts from the play to use as role-playing practice for our students during class. But we decided to develop it into a full-length play since the psychological transformations of the characters in Miss Julie were so well suited to be performed as a traditional Chinese opera," recalls Wang Shaojun, the director and scriptwriter of the play, and director of the acting department at the National Academy of Chinese Theater Arts.
Set in a large country house, the play is centered around Miss Julie, who finds herself attracted to her servant, Jean, who she later seduces.
The couple then try to escape from the family to start a new life. However, the life eventually leads them to a very different destiny.
In Wang's adaptation, the play revolves around a wealthy squire's daughter named Zhu Li who seduces her servant Xiang Qiang on the night of the traditional Chinese Lantern Festival. She decides to break with tradition and elope with him in the hope of starting a better life. This version of the play, like the original, ends tragically.
"Yuju Opera is rich in rural flavor, and its dialogue and singing give a vivid insight into the complex minds of the characters," says Wang.
"This mix of traditional Chinese opera with a Western play not only gives a fresh perspective on Miss Julie, but also offers a new way of interpretation using traditional Chinese opera."
Besides Miss Julie, the ongoing drama festival, which kicked off on Oct 27, has gathered together eight productions, including Voyage from the University of International Business and Economics, Shun Kin from Tsinghua University and Wu Yuzhang from the Renmin University of China.
Started in 2006, Beijing College Students Drama Festival is a national theater program involving students from colleges and universities nationwide, which has served as a catalyst in improving the quality of college theater in the country, according to Hao Rong, chairman of the committee of Beijing College Students Drama Festival, and vice-president of the Central Academy of Drama.
Since its inception, the festival has given more than 3,000 students from 90 colleges and universities around China the opportunity to stage their theater works. Students from other countries, including Russia, Japan and Ukraine, have also presented their works at the festival.
This year, besides watching performances, participants can also attend workshops, master classes and forums on subjects relating to the theatrical arts from Oct 16 to Nov 6.