Musical tribute to the mainland
Maksim Mrvica, a Croatian pianist has just premiered two singles in Beijing, New Silk Road and China Rhapsody
In 2001, Maksim Mrvica, a Croatian-born classical pianist studying in Paris, gained fame as a promising young musician after winning piano competitions in Europe. After watching his performance on TV that year, Tonci Huljic, a Croatian songwriter and producer, approached Mrvica and introduced him to Mel Bush, a concert promoter and music manager, who put on concerts for artists like Led Zeppelin, David Bowie, and Elton John.
At that time, Bush was looking for a classical pianist and hoping to break into the classical crossover market. On meeting Maksim, Bush was impressed by both his rock star image - tattoos, chic hairstyle - and solid piano playing technique.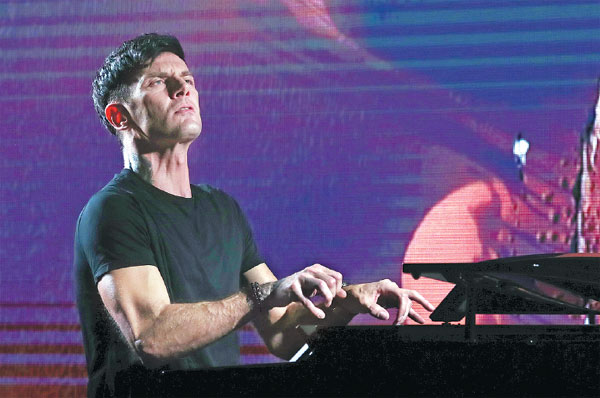 Maksim Mrvica is about to kick off a 34-city tour of China. Photos by Zou Hong / China Daily
Bush signed Mrvica on the spot after hearing him play just one piece.
Nearly two decades later, Mrvica, with 11 crossover albums since 2003, has grown into one of the top selling crossover pianists in the world.
His albums, including the hit one, Croatian Rhapsody, in 2015, have sold more than 4 million copies in 57 countries.
Meanwhile, the pianist has just premiered two singles in Beijing, New Silk Road and China Rhapsody, both written by Huljic.
To support of these releases, Mrvica will kick off a tour in China - his biggest one in the country - by visiting 34 cities, including Beijing, Nanjing, Hangzhou and Shenzhen.
"I've performed over 100 shows in China and I want to give something back to my fans here. The two songs are inspired by China, especially Chinese culture," the pianist says in Beijing. Mrvica first came to China in 2008 to record a piece, Olympic Dream, for the Olympic Games in Beijing.
Since then, the pianist has toured China every year and has built a large fan base.
In 2016, he has visited 26 Chinese cities, playing his signature pieces, including an energetic version of Rimsky-Korsakov's Flight of the Bumblebee.
As for the two new songs, the New Silk Road, was recorded in Budapest along with more than 60 musicians from the Budapest Symphony Orchestra.
For the six-minute song, the composer, Huljic, combined music elements from China, Russia, India and Central Europe, including the sounds of Chinese instruments - the erhu and bamboo flute.
Speaking about his work, Huljic says: "As composer, I collect music elements from all over the world. And I am very interested in Chinese music, especially ethnic music.
"This is my first time in China and before composing these two songs, I asked myself 'How can I describe China in a few words?' Then I chose the words like 'great', 'wisdom' and 'humanity'. I put these words into music."
Speaking about the songs, Huljic says that while New Silk Road is a grand and dazzling piece for piano and orchestra, China Rhapsody is just for piano.
"China Rhapsody is much simpler technically. There are many kids in China learning piano and this piece is material for them to practice," he says.
Huljic also says that this year marks the 25th anniversary of diplomatic relations between China and Croatia and he dedicates these two pieces to the two countries.
Giving details about his tour, Mrvica says that he will divide his upcoming visit China in 2018 into two seasons - spring and autumn.
"The number of the cities (for the tour) is still growing, so I can take a short break between these two parts.
"It (the tour) can be very exhausting. So, I usually stop playing the piano for a while after each segment so that I can recharge myself."
Mrvica, 42, who was born in Sibenik, Croatia, started piano lessons at the age of 9 and by the age of 11, he had held his first concert as a soloist with an orchestra.
It was not easy for him to become a concert pianist, especially when, at the age of 15, war broke out in Croatia.
But he continued to practice his piano in the basement of his music school.
By that time he had won the first prize in a national competition in Zagreb.
Later on, he won the first prize at the Rubinstein Piano Competition in Paris and the first prize at the Pontoise Competition in France.
He then went on to study at the Music Academy in Zagreb before he spent a year at the Franz Liszt Conservatoire in Budapest.
His debut album, Gestures, was released in 1999.
The album, featuring works by contemporary Croatian composers, became one of the fastest-selling classical recordings released in Croatia.
Speaking about his musical journey, Mrvica says: "No one in my family is a musician. So, when I told my parents that I wanted to become a pianist, they were very surprised."
The pianist is recording a new album in London and Budapest, and it is scheduled to be released in January.
The two new pieces, New Silk Road and China Rhapsody, will be in the album, and for the first time, he will integrate pop music into his work.
"In the new album, audiences will find familiar pop songs from Coldplay, John Legend and music from the popular TV drama, Game of Thrones. It's a challenge to adapt pop music into classical music but I like it," he says.
chennan@chinadaily.com.cn
(China Daily 10/28/2017 page19)