Symphony, dance elevate explorations with a zither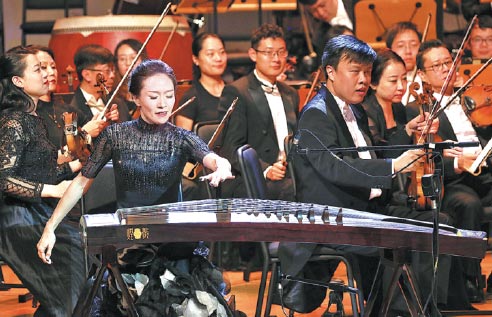 Guzheng soloist Zhao Jienan performs in a concert in Beijing on Sept 30. [Phogo by Wang Kaige/China Daily]
A longhaired beauty, Zhao Jienan seems to match the image traditionally associated with a guzheng (Chinese zither) player.
However, when she performs onstage, audiences are surprised by the modernity of her performances. During her recital in Beijing on Sept 30, Zhao performed with a symphony orchestra, contemporary dancers and electronic music. She also invited other traditional Chinese instrument players, including percussionist Wang Jianan and bamboo flutist Yu Xiaoqing to perform with her.
"I'm trying to show the guzheng can be modern and versatile," says the 35-year-old musician.
One of the pieces she performed was Shushan Mountain, composed by Chinese musician Ma Jiuyue. Inspired by the poem, Shu Dao Nan, by Tang Dynasty (618-907) poet Li Bai, the music piece portrays the grandeur of the natural scenery of Shushan Mountain.
Zhao first performed Shushan Mountain when she toured the United States with artists from the China Oriental Performing Arts Group in September 2016, including a performance at the 18th World Music Festival in Chicago.
"It was the first time that I performed the piece with dancers, which was a very different experience for me," says Zhao, who until then had performed mostly as soloist. "With the dancers, the atmosphere was full of energy and we inspired each other's performance."
Since then, Zhao has adapted more solo works for the guzheng to incorporate other elements, such as dance.
"I want to express contemporary people's feelings through the guzheng," she says. "I've seen many traditional Chinese instrument players make efforts to keep their instruments alive by injecting contemporary music elements into their performances. I find it expressive to present other art forms onstage when I play."
"There are many people who play traditional guzheng works. Zhao Jienan is one of them. But she impressed me with her own understanding of my piece, Shushan Mountain, and she is keen on inventing new ways to interpret the work," says composer Ma.
In another piece, The Dance of Ice and Fire, composed by Fang Dongqing, Zhao showcased the spirit of the music not just through her instrument but also through multimedia. She also performed the piece, which was written for guzheng and symphony orchestra, with Chinese folk dance, offering the audiences a visual spectacle while listening to the music.
Originating during the Warring States Period (475-221 BC), the guzheng is a Chinese plucked zither of usually 18 to 23 strings, sometimes more, and movable bridges. It is the ancestor of several Asian instruments, such as the Japanese koto, the Mongolian yatga, and the Korean gayageum.
Zhao, who was born into a musical family in Jinan, Shandong province, started learning the instrument with her father when she was 6 years old and she was enrolled in the primary school affiliated to the Central Conservatory of Music in Beijing in 1991.
She was one of the top students with excellent technique, however, she also began to look for a new music language by listening to all kinds of crossover music from around the world.
After gaining her master's degree in guzheng performance from the Central Conservatory of Music in 2004, Zhao became a teacher at Minzu University of China as well as touring worldwide with the university's folk orchestra. Six years ago, she withdrew from the stage, married and gave birth to her son. Now, as a member of China Oriental Performing Arts Group, Zhao has returned to the limelight.
"I have been trying to discover the different characters of the guzheng and I hope the audience will be curious enough to accompany me in my explorations," Chang says.