Songs for all seasons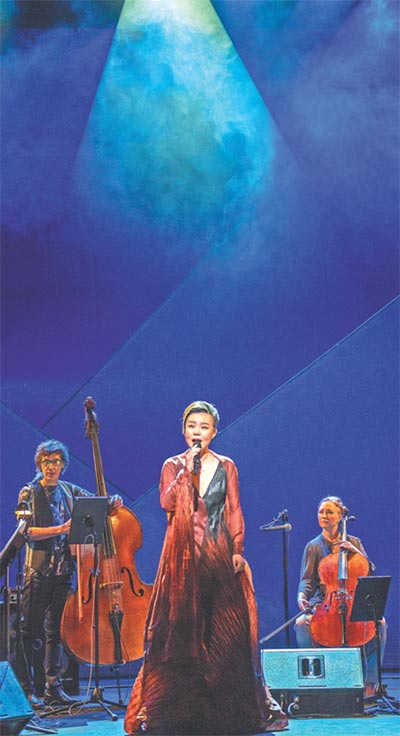 Gong Linna performs in a concert, titled Cloud River Mountain, at the Gerald W. Lynch Theater at John Jay College in July this year, as part of the annual Lincoln Center Festival. [Photo provided to China Daily]
The 24 Solar Terms, a traditional Chinese calendar that summarizes different seasonal phenomena, have inspired many artists from choreographers, painters to composers. The musical couple, Chinese singer Gong Linna and her husband, German composer Robert Zollitsch, are no exception.
With the help of their friend, Jing Yuanhua, who teaches Chinese language at Renmin University of China, the couple have selected 24 traditional Chinese poems and turned them into 24 songs.
From August 7, on the day of li qiu, or the Beginning of Autumn, they have already released four songs, including Beginning of Autumn based on Song Dynasty (960-1127) poet Liu Yong's poem, Shao Nian You, and Autumnal Equinox, or qiu fen in Chinese, which is inspired by the poem, Qiu Ci, by Tang Dynasty (618-907) poet, Liu Yuxi.
"The 24 poems we've selected are not just well-known traditional Chinese poems, there are also some less well-known ones. With the music, audiences understand these poems further and learn the rotation of the 24 Solar Terms, a great part of Chinese culture," said Gong in Beijing recently.
The 24 Solar Terms are viewed as "China's fifth invention" in international meteorological circles. Each of the 24 points on the traditional Chinese lunisolar calendar matches an astronomical event or signifies a natural phenomenon.
In November 2016, the 24 Solar Terms were added to the UNESCO's Lists of the Intangible Cultural Heritage of Humanity.
According to the couple, each of the 24 songs combine traditional Chinese instruments, such as the bamboo flute, xiao (vertical Chinese flute) and sheng (a traditional Chinese wind instrument) with contemporary musical elements.
"The ancient Chinese people invented the 24 Solar Terms to guide farming. But because the climate change, it also influences the mood of the people. That's why we have so many traditional Chinese poems inspired by the 24 Solar Terms," says Jing, who is also the editor of Gong's series of singing teaching materials. "Traditional Chinese poems are must-reads for students, but few people read Chinese poems after leaving school. With music, it can be easier to remember and understand the poems."
"The 24 songs showcase the versatility of my voice. Like my husband's combination of instruments, I also mix different singing styles into performing the 24 songs, such as traditional Chinese opera and pop music," says Gong.
The idea of releasing 24 songs based on the 24 Solar Terms resulted from the earlier project of turning ancient Chinese poetry into songs by the couple in 2015, according to Gong, who was born in Guiyang, the capital of Southwest China's Guizhou province, Gong started learning Chinese folk singing at a very young age and enrolled at the Chinese Conservatory of Music in Beijing at age 16.
Zollitsch has used such experiments in their album, Tang Song Dong Xi, a double CD which was released three years ago. With Gong singing and Zollitsch composing, they used more than 15 Chinese poems from ancient poets such as Li Bai, Du Fu and Bai Juyi as lyrics.
The Tang and Song of the title refer to the two Chinese dynasties that are famous for their poetry, and the music incorporates both Chinese and Western instruments. The title of the other CD, Dong Xi, means "East West" as well as the Chinese phrase meaning "a thing", it features pop and electronic music in the songs.
The first song of the album is Jing Ye Si (Thoughts on A Quiet Night), taken from the famous poem of the same title by Li Bai (701-762).
Zollitsch says he first read the poem in the 1990s and so far has seen more than 300 translations of it.
Zollitsch, who grew up in Munich, Germany, and came to China on a scholarship to study guqin (the Chinese seven-stringed zither) in Shanghai in 1993, says he wants to enliven Chinese music and bring back classical poems to modern society.
"The Austrian composer Franz Schubert was a pioneer of turning poems into music, which enabled the poems to be popular till now. It could be a similar act to turn traditional Chinese poems into songs, which can be appreciated by today's audiences," says Zollitsch. "Pop music dominates the music scene in China. We want to introduce something different."
Before settling down in Beijing in 2009, he researched traditional music in the Inner Mongolia and Tibet autonomous regions, while collaborating with a number of Chinese musicians. The couple met in 2002 and married in 2004.
In 2009, Gong received rave reviews after she released the song Tan Te (Disturbed) online. Composed by Zollitsch, the song uses sounds rather than words to convey different emotions and moods.
This July, the couple left Beijing and moved to the Dali Bai autonomous prefecture in Yunnan province, hoping to get closer to nature and focus on music. They also plan to launch a music education center there and teach children to sing songs inspired by traditional Chinese poems.