Worthy envoy for the flute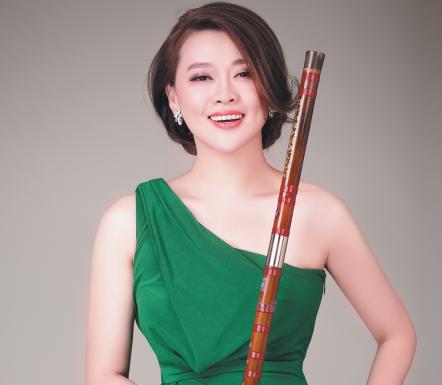 Chinese bamboo flute player Tang Junqiao. [Photo provided to China Daily]
Chinese bamboo flute player Tang Junqiao will team up her students from the Tang Junqiao Bamboo Flute Ensemble of the Shanghai Conservatory of Music to do two performances on Oct 15 at Beijing's Poly Theater.
Titled Classic for Kids-The Bamboo Flute Story, the concerts are part of the 20th Beijing Music Festival, the annual music event created by famous conductor Yu Long in 1998.
The show will feature eight music pieces, including Flight of the Bumblebee by Russian composer Nikolai Rimsky-Korsakov, A Love Before Time by Grammy Award winners, Tan Dun and Jorge Calandre and The Moon Represents My Heart, a pop song performed by the late Taiwan singer Teresa Teng.
"We want to do music works, which the audience is familiar with. The bamboo flute is a versatile instrument and the audience will be surprised to learn the variety of sounds which the instrument can produce," says Tang.
The ensemble, founded in 2013, has 33 students from the middle school affiliated to Shanghai Conservatory of Music and students of the Shanghai Conservatory of Music, who are pursuing their bachelor's and master's degrees in bamboo flute performance.
Speaking about the ensemble, Tang, who is now in her early 40s, says that she did not expect the ensemble to garner the international attention that has received. So far, the ensemble has performed in Singapore and Malaysia in 2013 and at the Gyeongju World Traditional Wind Instruments Festival "Manpasikjeok" in 2016.
Speaking about her work, she says:
"It is a challenge to introduce a traditional Chinese instrument ensemble when most people like Western instruments, like the violin or piano. But I am proud that we made it, and I hope more young people will appreciate the beauty of this ancient instrument and join us."
Tang developed a passion for the instrument from an early age.
Born into a musician family-her father and uncle are both bamboo flute players in a local traditional Chinese opera troupe-Tang picked up the instrument naturally as a child.
At 7, she started learning the instrument as well as other traditional Chinese instruments, such as the suona.
Then, at 11, Tang was admitted to the affiliated middle school of the Shenyang Conservatory of Music and five years later, she gave her first solo recital.
She moved to Shanghai in 1992 and studied at the Shanghai Conservatory of Music under the guidance of two bamboo flute artists, Zhao Songting and Yu Xunfa.
"One of the things my teachers taught me was not to imitate them. They encouraged me to develop my own music style. Since then, I have been trying to be different musically," says Tang.
Her big break came in 2000, when she was the principal bamboo flute player of the Shanghai Chinese Orchestra.