Traditional Chinese dancer shares about her career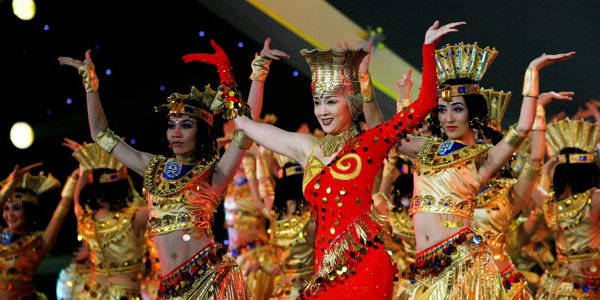 Zhao Liping performs on the stage. [Photo/CGTN]
Zhao Liping is a dancer and choreographer who has devoted her life to the art of dance. She has been trained in traditional Chinese dance, flamenco, ballet and even traditional Indian dance, and has both performed in and choreographed many operas and dance performances around the world.
Born in east China's Suzhou city, Zhao Liping started dancing at the age of seven at Suzhou's Sunflower Art and Literature Elementary School. By the age of eleven, after competing against a hundred thousand applicants, Zhao entered the prestigious Beijing Dance Academy.
After graduating in 1984, Zhao joined China's leading song and dance troupe, the Oriental Song and Dance Ensemble. Since 1962, the troupe has performed Chinese music and dance all over China and across 70 countries around the world, while introducing exotic dance performances to people in China.
In 1997, Zhao experienced tragedy as her husband Tao Jin passed away from cancer. Dubbed the Chinese Michael Jackson, Tao Jin was a singer, dancer and actor with many adoring fans across China that were devastated by his passing. For Zhao Liping, the passing of Tao Jin affected her professionally, as well as taking a toll on her health.
In 1998, Zhao Liping returned to dance when she was chosen to be the lead dancer for Giacomo Puccini's legendary opera "Turandot." The opera was directed by renowned Chinese filmmaker Zhang Yimou, and was performed in Florence, Italy.
In 2016, Zhao started her own dance troupe called the Oriental Dancers. The group is preparing to perform a new show called "Original Home," which is based on a dream of Zhou's hometown of Suzhou during ancient times.