Chinese pop heading to Broadway with a jukebox musical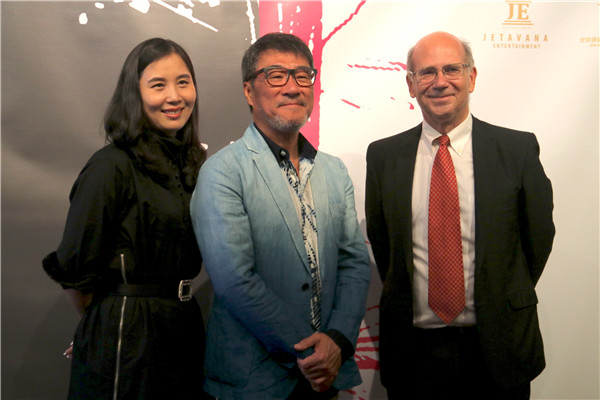 Jonathan Lee (center) with the US executive producer Don Frantz (right) and Ivy Zhong, chairwoman of China Broadway Entertainment, in New York. [Photo by Zhu Yundi/For China Daily]
Jonathan Lee, China's godfather of pop, is taking his celebrated songs to Broadway as a jukebox musical this year.
Produced by China Broadway Entertainment, Road to Heaven: Jonathan Lee Musical is adapted from a novel by Li Xiuwen about a man and a woman and a deathly illness and will feature popular songs by Lee.
"I'm delighted to have the opportunity to share my music through a new medium," says Lee. "The idea that my music can reach a new, global audience through the theater is absolutely thrilling."
"There are lots of challenges we have to overcome, because the lyrics of my songs tell different stories, so translating them into English and integrating them into a storyline won't be easy. There's not just a language barrier but cultural and historical differences as well," Lee says.
US executive producer Don Frantz says: "We got the novel from Li Xiuwen, adapted it to a musical and changed it a little bit to create a beautiful musical story."
"We also got Tony Award-winning lyricist Richard Maltby who dove into the lyrics of Jonathan Lee and translated them for us," Frantz adds.