Military bands play in East China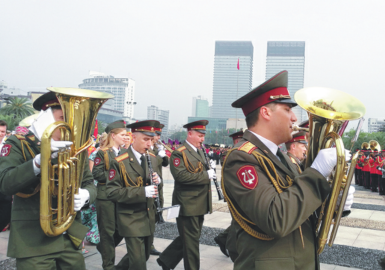 Military bands show a common love for music and share cultural elements of different countries at an international gathering in Nanchang, Jiangxi province. [Photo by Wang Jian/China Daily]
Military bands from across the world this week gathered in Nanchang, capital of Jiangxi province, to share the universal language of music.
The bands from 11 countries, including the United States, Russia, Canada and Egypt, joined 11 Chinese military bands and six wind bands from schools in the provincial capital as part of the Fifth Nanchang International Military Tattoo Opening Ceremony on Sunday. The event ends on Friday.
"Music is a shared language and these military bands represent their countries and showcase their culture while learning from each other," says Guo An, the mayor of Nanchang, at the opening ceremony.
The event is the largest of its kind and the participants put in considerable time and effort to rehearse, march and play their instruments in perfect harmony and step, adds Guo.
The bands delighted spectators on the streets of Nanchang. Ian Cotton, a trumpet player from the New Zealand Army Band, was in Nanchang for the first time along with 38 of his bandmates.
"I've practiced my instrument since I was 8 and it's been 38 years now. This is a good opportunity for us because music is an international language on its own and it's an opportunity for us to show our country and to show what we are," he says.