Treat for fans of classical music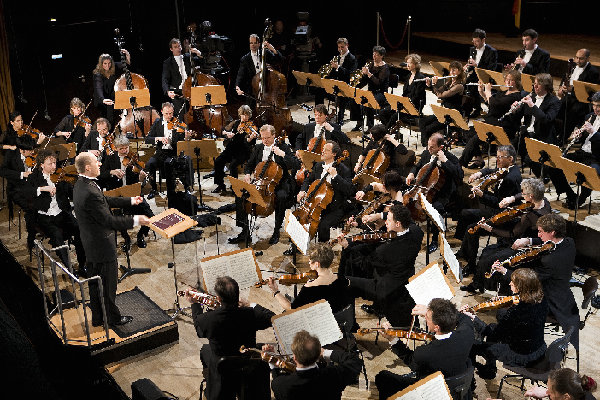 The Beijing Music Festival, to begin on Oct 8, will have a unique program to mark its 20th anniversary. It will feature 29 performances, including three operas and children's concerts, lectures and masters-classes in three weeks. [Photo provided to China Daily]
The Beijing festival, which opens on Oct 8, always features world-class musicians and concerts. Chen Jie reports.
October is the main season for classical music fans in the capital as the Beijing Music Festival always features world-class musicians and concerts. This year, the annual festival has a unique program to mark its 20th anniversary.
Yu Long, the artistic director of BMF will conduct the China Philharmonic Orchestra, of which he is also the music director, to open the festival on Oct 8.
The orchestra will perform with violinist Frank Peter Zimmermann and his violinist son Serge Zimmermann.
Then, in the next 22 days, the festival will feature 29 performances including three operas and children's concerts, lectures, masters-classes and opening rehearsals.
The highlights include Wagner's opera Die Walkure, all of Beethoven's symphonies by Deutsche Kammer Philharmonie Bremen, an orchestral marathon by nine of China's symphony orchestras and concerts dedicated to Chinese composers and works.
The BMF has presented 48 operas since it began in 1998. And 26 of them have made their debuts in China.
Wagner seems to be the favorite, though German composers' operas are not as popular as Italian ones like La Traviata, Aida or Turandot.
The BMF has staged Wagner's Tannhauser, Tristan and Isolde, The Master-Singers of Nuremberg and Parsifal.