Wuqiao circus festival helps keep old art alive with fresh ideas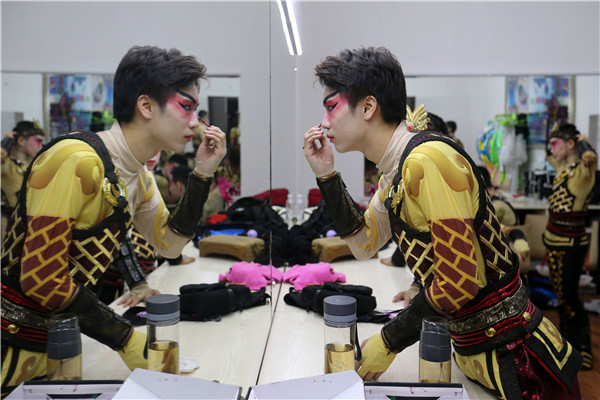 A performer from Hebei Wuqiao Acrobatic Art School applies makeup before going onstage. [Photo by Wang Zhuangfei/China Daily]
Wang Yang grew up with watching acrobatic performances and his favorite activity as a kid was doing handstands and turning somersaults.
"I can still remember that I competed with my friends to turn 100 somersaults one after another, and that I practiced at home every day so I would win," says Wang, who was born and grew up in Wuqiao county, Hebei province, which is considered to be the birthplace of Chinese acrobatics.
At 10, Wang entered Hebei Wuqiao Acrobatic Art School, with the aim of becoming a professional acrobat. Decades later, Wang, now 40, is a teacher at the school, which was founded in 1985.
He just took his students, aged from 12 to 17 years old, to compete in the 10th China Acrobatics Golden Chrysanthemum Awards, the highest award for acrobatics in the country.
Their performance, titled Chinese Kung Fu, will also compete in the 16th China Wuqiao International Circus Festival, which is running in Cangzhou and Shijiazhuang, Hebei province, through Oct 8. Thirty-one troupes from 18 countries are taking part in the festival.
"This is the first time that I participated in a national competition and I was very nervous," says 14-year-old Xue Shang, who started learning acrobatics at Hebei Wuqiao Acrobatic Art School five years ago.
"We turn hundreds of somersaults every day. I spent two months working on my balance in the air while turning somersaults," says 15-year-old Yan Xiangyu, who, like Xue, is also a student at the acrobatic art school.
"We practiced 10 hours a day for the 8-minute performance and all the 15 students, all male, had no competition experience," says Wang, who led his students to win the golden award at last year's China Wuqiao International Circus Festival with a performance of unicycling.