Feats of wonder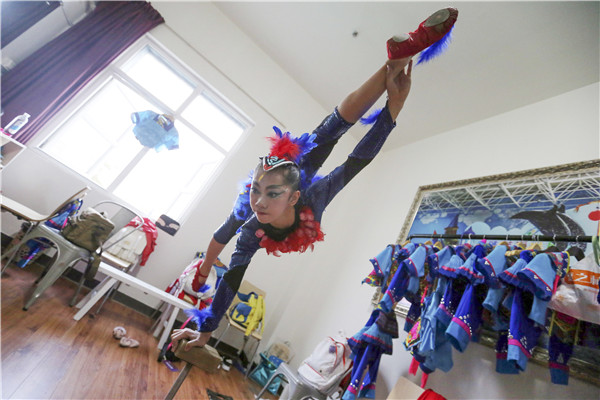 Young actress Wei Sina stretches her limbs before her acrobatic show at the 10th China Acrobatics Golden Chrysanthemum Awards held over Sept 16-21 in Penglai, Shandong province. [Photo by Wang Zhuangfei/China Daily]
The 10th China Acrobatics Golden Chrysanthemum Awards were held in Shandong province, and the competition showed that Chinese acrobatics is still going strong. Chen Nan reports.
It is the moment the audience gives a collective gasp of astonishment as Wei Sina, a 16-year-old acrobatic performer, does the splits balanced upside down on one hand on a rotating 3.5-meter high installation.
Suddenly she twists her body as if about to fall and the audience gasps again, this time in shock. But slowly, she stretches her body and poses with her feet pointing to the high ceiling; the audience responds with thunderous applause.
Titled Wings, the 15-minute performance features Wei playing the role of a little bird trying to fly high in heavy rain.
"I am satisfied with my performance because I finished all the movements without any fault. It's a breakthrough for me," says Wei with a deep breath.
Wei, who was born and grew up in Nanning, capital of the Guangxi Zhuang autonomous region, started practicing acrobatics at age 6, and she has already won a number of national awards. She is a performer with the Guangxi Acrobatic Troupe in Nanning.
Wings was one of the 30 performances that made it to the final round of the 10th China Acrobatics Golden Chrysanthemum Awards. Launched in 1987, the competition is held every three years and is the highest award for acrobatics in the country.