Bid to tempt Chinese collectors to look at rare violins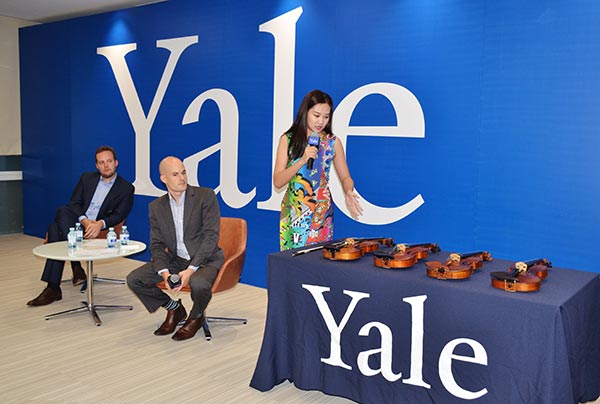 Li Yuhe, a violinist, is introducing rare violins to the audience. [Photo/chinadaily.com.cn]
Colin Maki, an American violin dealer, is trying to develop a market for old rare violins in China.
Four rare violins were brought from New York to Beijing in August. And before a music event at the Yale Beijing Center, attendees were able to have a close look at the instruments and take pictures. They were placed on a small table, without any special protection.
Maki, founder of an independent instrument consulting firm in New York, brought the violins to the event.
He spoke to the audience while keeping a close eye on the violins.
"I have to be very careful about their safety. Each of them has been covered by insurance. Very high insurance," he says. "So, I do not often display them in public like this."
Li Yuhe, a violin teacher at the Conservatory of China, played the first sheet of Violin Concerto in E Minor by Felix Mendelssohn on each of the instruments.
"Each of them has a rather different tone, and they are all magnificent," she says. "But the Strad is my favorite."
"Actually, I am here for the Strad," she says.
The Stradivarius, or Strad, she played is one among only around 500 Strad violins left in the world, each of which is worth millions of dollars.
A mere mention of the Stradivari is enough to create a buzz among musicians.
The Stradivari family is one of the most prominent violin makers in history.
No one knows the secrets of how the Strads were made.
Violins made by the Stradivari family during the 17th to 18th centuries, which is now considered the golden age of violin-making, cannot be reproduced.
Lighter than modern violins, and exquisitely crafted, a Strad violin is almost every violinist's dream. But few are able to afford one.
For the past 20 years, Strad violins have increased in value at an average annual rate of around 14 percent, according to data from Rare Violins of New York.
"The value of Strad violins has never gone down," says Maki.
"You can just hold it for years and see its price soar."
He adds that a famous trader once said that maybe 100 years ago most fiddles were in the United Kingdom, but 20 to 30 years ago there were probably more Strad violins within the 30-mile radius of Chicago than in the entire United Kingdom.
But now they are moving China.
In 2015, the 1727 "General Dupont" Stradivarius violin was sold to a Chinese collector, a first.
And Maki says that having visited China several times, he feels it is the time to step into the market.
Data from Art Basel and UBS Global Art Market Report released earlier this year shows that China has the largest share of the market in global sales of art and antiques at open auctions.
Zhang Maolun, an amateur violinist and a collector, says: "Everyone knows that China is an untapped market. We have more wealthy people now."
"But it is hard to reap profits here as the market here currently is barren."
This is because unlike Chinese paintings or chinaware, violins remain new and unfamiliar territory.
Preservation and fixing violins — old violins need to go to violin doctors on a regular basis — can be quite a headache for Chinese investors.
"So the business prospects remain bleak," says Zhang.
The day Maki arrived in Shenzhen, his first stop in China, he was contacted by a wealthy collector in Beijing.
That gave Maki some confidence.
"We need to develop the culture first and do a lot of education — from its investment value to how to keep the violins in good condition."
With nearly 15 years of experience of selling instruments in different parts of the world, he says it worth a try.
"I know it takes time," he says. "I don't sell a Strad every day."