From caves to the stage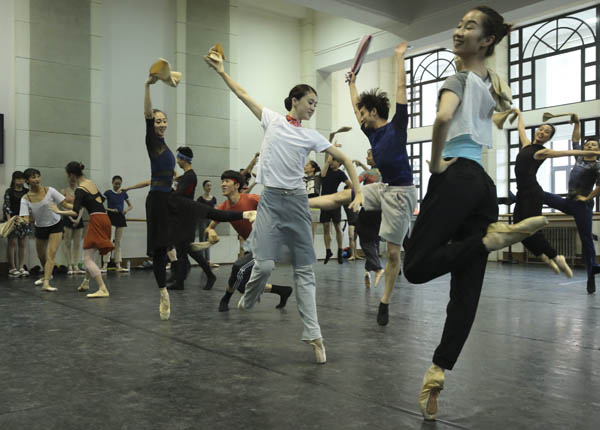 Dancers from the National Ballet of China rehearse for Dunhuang, which is inspired by the Buddhist art and frescoes in the Mogao Caves. JIANG DONG/CHINA DAILY
Choreographer Fei Bo brings to fore the stories of people associated with preserving Dunhuang's grottoes in a new ballet. Chen Jie reports.
Flying apsaras (supernatural entities in Hindu and Buddhist mythology) on the ceilings of the Mogao Caves in Dunhuang have inspired many dancers-and Fei Bo is no exception.
But what impressed the Chinese choreographer most about the caves, which are located in Northwest China's Gansu province, was what was behind the preservation of the Buddhist art and frescoes.
He has returned to the caves once every year since his first visit to Dunhuang in 2012. He's inspired by stories of people who have preserved the artworks. And he has created a ballet about them.
The National Ballet of China will premiere Dunhuang at the Tianqiao Theater in Beijing on Sept 19. It'll show in the capital for three days and then tour Gansu from Sept 27 to 28.
When Fei first visited the Mogao Caves, a tour guide told him most of the archaeologists who initially worked there were buried in a nearby desert.
The first batch of experts who came to Dunhuang were 20 years old or younger. They spent all their lives there, discovering sculptures, preserving the artworks and restoring the caves.
"The guide's words lingered in my mind. And I asked for more stories," recalls Fei.
Curiosity lured him back in 2013, when he visited the Dunhuang Research Academy that manages the caves.