Cirque du Soleil's emphatic comeback
A decade after its debut in China, the Canadian entertainment company is now returning with an ambitious plan: to bring a touring show to the country every year in addition to a resident show in Hangzhou
Having grown up in a remote village in Anhui province, where more than 70 percent of China's circus performers come from, Yao Dengbo learned how to be an acrobat when he was just 6 years old.
What started out solely as a means of providing for his family soon turned into a passion. In 2007, Yao was spotted by a talent scout during a street performance in the US and was urged to audition for Cirque du Soleil's new show Kooza.
Yao has since been performing a solo segment during the two-hour show, using his hands to balance on a tower of chairs as high as 8 meters.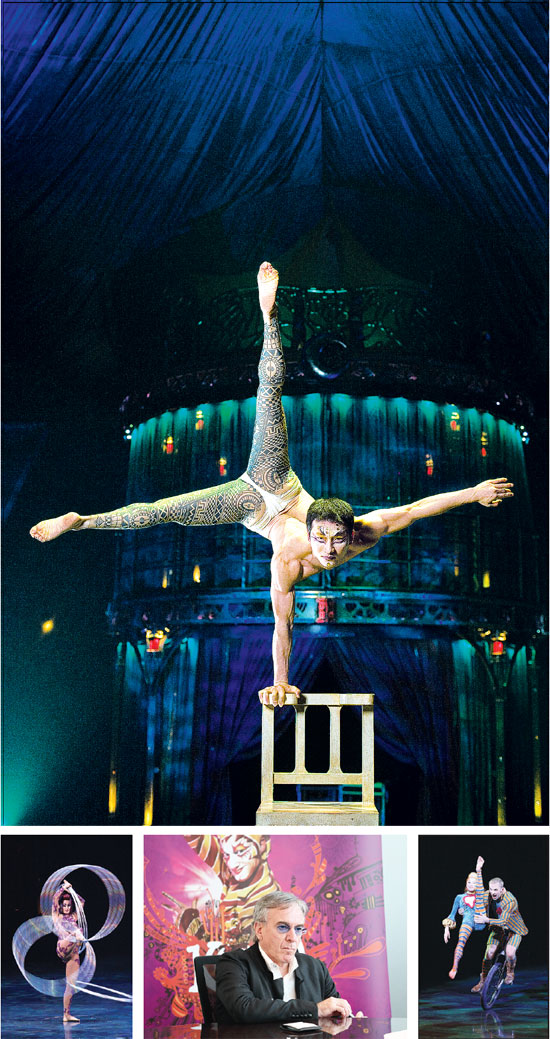 Clockwise from top: Yao Dengbo's solo performance during Cirque du Soleil's new show Kooza; Chinese conglomerate Fosun Group acquired a 25-percent share in Cirque du Soleil in 2015; Daniel Lamarre; Cirque du Soleil will bring its show back to China starting October. Photos Provided to China Daily
Now, after following the famous circus troupe to 18 countries and performing for 6.85 million people over the past decade, the 40-year-old will finally get to perform at home.
"Of course the Chinese will love it. Every time I go back to China and tell people I am an artist for Cirque du Soleil, I'm always asked when the troupe will perform here. And here we are," said Yao during an interview with China Daily USA, prior to a news conference in Beijing on July 14 to announce the launch of the show.
Though Cirque du Soleil debuted in China 10 years ago, this is only the second time that the Canadian circus and entertainment company has brought its show to the country. It also marks the first time its artists are performing in China since Chinese conglomerate Fosun Group acquired a 25-percent share in the company in 2015.
The Kooza tour of China will begin in Shanghai on Oct 1, the beginning of the nation's weeklong National Day holiday, before moving on to Beijing and another five Chinese cities. The troupe will perform six days a week for two months at every location.
"Kooza is not a warm-up for the upcoming resident show in Hangzhou," said Daniel Lamarre, CEO of the Montreal-headquartered company. "It is our official entry into the market. We will have a very intense presence in China, starting October and lasting forever."
Lamarre added that there will be at least one tour taking place in China every year. The resident show in Hangzhou of Zhejiang province is scheduled to open by the end of 2018.
Kooza, which means "box" in Sanskrit, tells the story of an innocent clown embarking on a magical journey inside the world of circus performances. The show pays homage to traditional circus acts by combining a variety of acrobatic moves including aerial hoops, contortion and balancing acts.
"It was very important to bring a show to China that would be more distinctive than anything else here. We thought that Kooza would be a very good way to introduce our brand to China because it is joyful and represents a return to our company's roots," said Lamarre.
Cirque du Soleil was formed by a group of street performers in Quebec in 1984. It has since grown into a multinational company that has created 43 shows over the last three decades, with 23 of them currently performed globally.
Lamarre said that choosing a show that was more rooted in tradition was the "safe pick" for the local market, noting that the circus has a rich history spanning about 2,000 years in China.
"I have been doing lots of research. There are two schools of thoughts in China about the traditional arts. One is that people are looking for Western brands, which is going to be very appealing for Cirque du Soleil. The other is that locals want foreign brands to respect their culture," he said.
The upcoming show, he added, will appeal to the first group of people. Meanwhile, the resident show in Hangzhou, which will feature a blend of Chinese and Western cultural elements, would cater to the second. In addition, at least 50 percent of the Hangzhou cast will be Chinese artists.
Lamarre is confident that Chinese audiences will like the shows that Cirque du Soleil has to offer, citing the troupe's expertise in choreographing acrobatic arts that are weaved into emotional storylines.
Johnny Dean Harvey, creative director of Kooza, expanded on this point.
"I think one of the great things about Kooza, or any Cirque du Soleil show, is the intimacy in the theater which cannot be replaced by technology or communicated by cellphones or video cameras," he said.
"All the artists are within several feet of the audience. This provides audiences a reminder that what they are experiencing is taking place right in front of them, instead of through a screen."
Harvey also noted that Chinese audiences have reached such a level of sophistication that it is not necessary to completely localize shows in order to appeal to them.
Built at a cost of 1 billion yuan ($148 million), the permanent theater for the resident show in Hangzhou is currently in its final construction phase. This is the first time Cirque du Soleil has built a permanent theater to host a resident show outside the North American market. When ready, the theater, which used to be a heavy-duty machinery factory, would be able to accommodate 1,440 people.
Ticket prices for the yearly tours and resident shows in China would cost between 380 and 1,980 yuan, a range that Lamarre considers affordable for the country's burgeoning middle class, which is the main target audience. He added that he is aiming to sell 200,000 tickets in each city for the Kooza tour.
According to China's National Statistics Bureau, the country's cultural industry enjoyed a compound annual growth rate of 22.67 percent from 2004 to 2014 when it was worth 2.39 trillion yuan.
In addition, the average spending on entertainment and cultural products has been growing at a faster pace - it increased by 23.3 percent from 2013 to 2015 - than the growth rate of average disposable incomes, which rose by 18.8 percent during the same period.
In 2015, Chinese spent an average of 1,723 yuan on live entertainment and cultural programs, accounting for less than 8 percent of the annual income. The box office in China, the world's second-largest moviegoing market, grew 48.7 percent in 2015 to hit a record $6.78 billion, according to the State Administration of Press, Publication, Radio, Film and Television, the country's entertainment industry regulator. Industry experts expect China to overtake North America as the world's largest movie market by the end of this year.
"China has become the most important market in the movie industry in the past few years. I think this is what will happen to the live entertainment industry here as well," said Lamarre.
"We are only at the beginning of the trend. The magic of live entertainment is that the more you see it, the more you want to see."
xujunqian@chinadaily.com.cn
(China Daily 09/09/2017 page18)