New dance show features animals in Chinese zodiac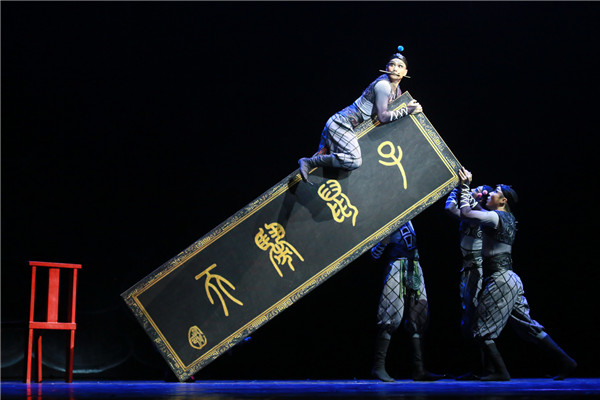 The new production Dance & Music Chinese Stories-Twelve Chinese Zodiacs is being staged in Beijing as part of the National Art Troupes Festival.[Photo provided to China Daily]
One by one, the five dancers emerge from the shadow of a 20-meter-tall desk, toward the center of the stage.
They leap into the air and swirl around a red chair, accompanied by gongs, cymbals and other traditional Chinese instruments playing in the background.
The quintet, dressed in red, yellow, green, blue and purple T-shirts, are mimicking mice, as part of a scene from Dance & Music Chinese Stories-Twelve Chinese Zodiacs.
The new dance drama, performed by the China Oriental Performing Arts Group, is being staged at Tianqiao Theater in Beijing through Sunday. It revolves around the 12 animal signs of the Chinese zodiac, which begins with the Mouse or Rat.
The act gathers 44 dancers and eight percussionists, playing instruments from around the world, including the djembe, a hand drum from Africa, and the conga, a drum from Cuba.
The Chinese zodiac categorizes years under a specific animal sign, which bestows its individual characteristics to those people born in its corresponding year. Those born under the Year of the Rooster, for example, which falls this year, display traits such as confidence and trustworthiness.
In the dance drama, director and choreographer Shen Chen has the dancers imitating the movements of the animals and tells stories through them.
"The 12 animals of the Chinese zodiac represent the most important and symbolic part of traditional Chinese culture," says Shen, who graduated from the Beijing Dance Academy in 1997 majoring in choreography.
"I want to show the circle of life, the circle of the four seasons and the circle of nature through the dance drama."
The performance took almost a year of preparation, according to Song Guanlin, the general manager of the China Oriental Performing Arts Group.